Churro Waffle Recipe
by Editorial Staff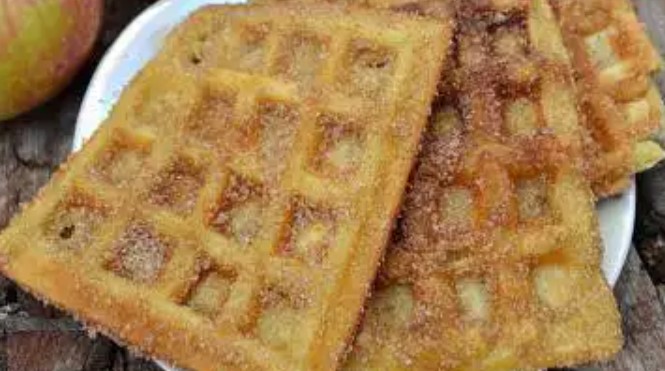 It's not hard to cook churro waffles. The main thing is to do it with love for your loved ones! It's very delicious. There's nothing to talk about. I recommend it!
Ingredients
For the batter:
Whole wheat flour – 125 g
Milk – 190 ml
Eggs – 1 pc.
Butter – 75 g
Sugar – 65 g
Cinnamon – 1.5 teaspoon.
Salt – 1/2 teaspoon.
Vanilla to taste
Leavening agent – 2 teaspoon.
For the sauce:
Chocolate – 40 g
Heavy cream – 75 ml
Directions
Melt the butter.
Mix the flour with vanilla, leavening agent, cinnamon (1/2 teaspoon.), and salt.
Heat up the milk a little. Add 1 tablespoon of sugar and the egg. Add 2.5 tablespoons of melted butter. Stir the mixture with a mixer.
Sift the flour and mix everything. You will get a smooth batter of medium thickness.
Heat waffle iron and grease it with some vegetable oil. Pour in the batter and bake the waffles until done.

Break or chop the chocolate. Pour in the cream and melt it over a pan of simmering water or in a microwave. Stir the mass until smooth. You can just heat up the cream almost to a boiling point, pour in the chocolate, wait a couple of minutes, and stir the mass.
Mix the remaining sugar and cinnamon.
Grease the cooked waffles with the melted butter.

Coat them in the sugar mixture.

Serve the churro waffles warm with warm chocolate sauce.
Also Like
Comments for "Churro Waffle Recipe"