Easy Churro Recipe (with Coconut Sauce)
by Editorial Staff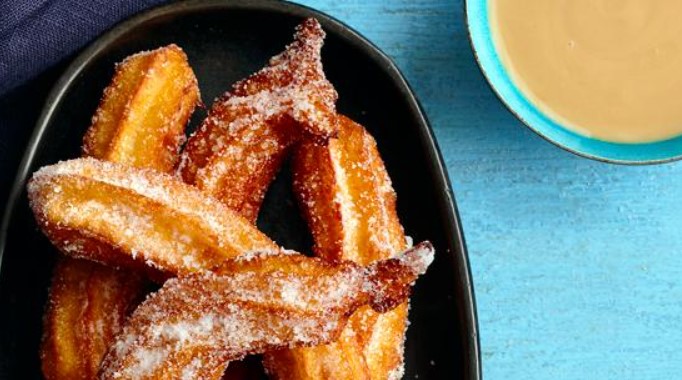 A detailed recipe for churros with coconut sauce.
Cook: 1 hr
Servings: 30
Ingredients
Milk – 1 and 1/4 cups
Butter – 4 tablespoon. (60 g)
Sugar – 1 tablespoon. plus more for coating
Vanilla extract – 1/2 teaspoon.
Salt – 1/4 teaspoon.
Flour – 1 and 1/4 cups
Eggs – 4 pcs.
Vegetable oil – for deep-frying
Caramel sauce:
Condensed milk – 500 g
Coconut milk – 3/4 cups
Directions
Cook the caramel sauce: pour the condensed milk into a medium saucepan and place it over medium heat. Heat it up for 10 to 15 minutes, stirring constantly, until it gets a light caramel color and starts to come off the sides. Add the coconut milk gradually and stir the mixture until smooth (for about 5 minutes); then set it aside.
Cook the churros: put the milk, butter, sugar, vanilla, and salt into a medium saucepan and bring it to a boil over medium heat, stirring until the butter melts and the sugar dissolves. Reduce the heat to medium.
Add the flour and stir vigorously with a wooden spoon for about 1 minute.
Transfer the dough to a large bowl and cool it slightly (for about 5 minutes).
Add the eggs one by one and beat them with a mixer.
Transfer the dough to a piping bag with a small tip.
Put the sugar (about 1/2 tablespoon.) in a shallow bowl for sprinkling the churros.
Heat about 5 cm of vegetable oil in a wide saucepan until a thermo reaches up to 180°C. Squeeze out the dough of 7 cm long from the bag into the hot oil. Use a knife to cut the segments.
Brown the churros for about 3 minutes per batch. Bring the oil back to its original temperature between batches. Place the churros on a plate covered with a paper towel to remove the excess oil, then coat them in sugar. Serve them with coconut sauce.
Also Like
Comments for "Easy Churro Recipe (with Coconut Sauce)"