Easy Baked Churro Recipe
by Editorial Staff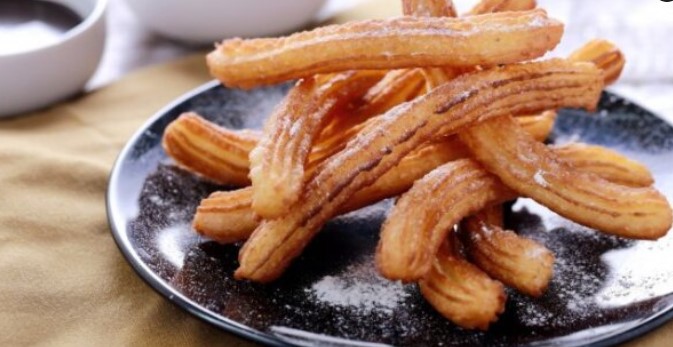 If the dilemma of how to eat churros and not gain a single gram seems unsolvable to you, here's the good news – you don't have to fry these cookies in vegetable oil as you can bake them in the oven.
Ingredients
Water – 200 ml
Butter – 113 g
Brown sugar – 2 tablespoon.
Salt – 1 pinch
Flour – 145 g
Eggs (of room temperature) – 3 pcs.
Vanilla extract – 1/2 teaspoon.
For the sugar coating:
Sugar – 50 g
Salt – 1 pinch
Cinnamon – 1 teaspoon.
Directions
Add the water, butter, sugar, and salt to a saucepan. Bring the water to a boil stirring occasionally over medium heat.
When the water boils, add the flour, all at once. Stir it with a whisk first, and then stir until you have a smooth ball-shaped dough. Boil it for about a minute. Take it out of the saucepan and cool it down.
Whisk the eggs, add the vanilla extract.
Add some egg mixture to the hot dough and stir it with a spoon. Repeat this with all the egg mixture. You will get thick choux pastry. Transfer it to a piping bag.
Preheat the oven up to 200˚C. Use a piping bag with a star tip to squezze the churros out into the sticks of 8-10 cm long on a baking tray covered with baking paper. Trim the dough at the base of the tip. Leave about 4 cm between the cookies.
Sprinkle the churros on a baking tray with water to help them rise. Put the tray in the oven for 18-22 minutes (don't open it!). The cooked churros will get brown. When the churros are baked, turn off the oven and leave the cookies for another 10 minutes.
While the churros are baking, prepare the chocolate sauce and cinnamon-sugar mixture. Sprinkle this mixture over the hot churros taken out of the oven. Serve the cookies with the chocolate sauce.
Also Like
Comments for "Easy Baked Churro Recipe"