Churro Recipe Easy (with Chocolate)
by Editorial Staff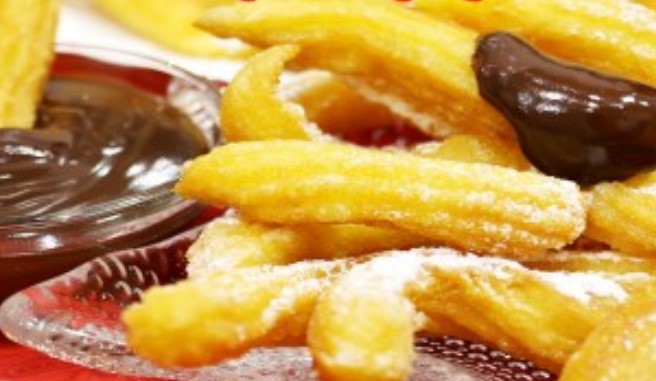 A simple recipe for churros. Deep-fried choux pastry squeezed out of a piping bag.
Ingredients
Flour – 200 g
Water – 400 ml
Eggs – 1-2 pcs.
Butter – 50 g
Salt – a pinch
Vanilla sugar – 1 teaspoon.
Baking powder – 1 teaspoon.
Starch – 1 tablespoon.
Lemon juice – 1 teaspoon.
Refined oil – 1/2 liters.
Cream:
Chocolate – 30 g
Milk – 50 ml
Directions
Pour water into a small saucepan, add the butter, squeeze a little lemon juice, add a pinch of salt. Put it on the stove to heat it up.
Mix all the dry ingredients in a separate bowl: flour, baking powder, vanilla sugar, and starch. Mix all together thoroughly.
When the water and oil come to a boil, add the dry mixture through a sieve. Stir the mass with a whisk.

Remove the saucepan from the heat and mix everything thoroughly until homogeneous.

Add 1 egg. Mix the mass thoroughly.
Place the prepared dough into a piping bag.
Heat the vegetable oil in a frying pan with high sides.
Turn the heat down to medium. Squeeze the dough out of the piping bag into the hot vegetable oil.
Brown the churros on both sides. Place them on a plate with paper towel. Brown all the dough in this way.

Now prepare the chocolate. Pour the milk into a saucepan. Add a few slices of chocolate to the milk. Stir. The chocolate should melt completely.

Pour the hot chocolate into a small bowl.
The dish is done. Enjoy your meal!
Also Like
Comments for "Churro Recipe Easy (with Chocolate)"