Disney Churro Recipe
by Editorial Staff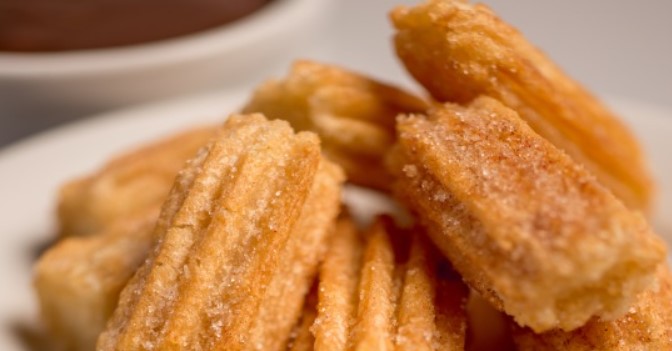 This Disney recipe will delight not only children but the whole family as well. The information on how to cook this sweet pastry, churros, was tod at Disneyland long ago. Disney sells 5.5 million churros in its parks every year. The official Disney Parks YouTube channel has a video tutorial for those who want to sweeten their lives with not only good animation but also this tasty pastry.
Ingredients
Water – 1 cup
Butter -110 g
Salt – 1 teaspoon.
Cinnamon – 1.5 teaspoon.
Flour – 250 g
Eggs – 3 pcs.
Sunflower oil -1.5 cups
Sugar – 1/2 cups
How to cook churros:
Directions
Put a pot on the stove and turn on medium heat.
Mix the water with butter in the pot and add salt.
Add half a tablespoon of cinnamon to the mixture and bring it to a boil.
Add the flour, mix everything well, and form the dough into a ball.
Remove the pot from the heat and leave it for 5-7 minutes.
Add the eggs one by one mixing one at a time.
Pour in 1.5 cups of sunflower oil into the air fryer and bring it to a boil.
Put the dough into a pastry bag and press it to form small churros while sending them into the boiling oil.
When the churros get brown, gently remove them from the air fryer and place them on paper towels.
Mix the remaining cinnamon and sugar and coat the churros in them.
Serve the churros with any syrups or chocolate.
Also Like
Comments for "Disney Churro Recipe"