Mexican Homemade Mini Churro Recipe
by Editorial Staff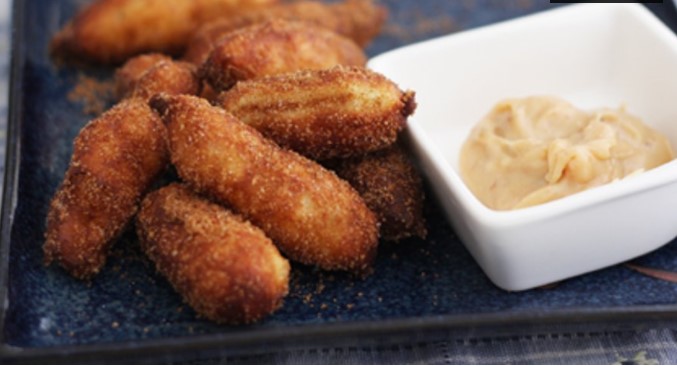 Sweet fried choux pastry for hot chocolate or sweet sauce.
Cook: 40 mins
Servings: 4
Ingredients
Condensed milk – 200 ml
Coconut milk – 100 ml
Milk – 1.2 cups
Butter – 4 tablespoon.
Sugar – 4 tablespoon.
Vanilla extract – 0.5 g
Salt – 0.2 teaspoon.
Eggs – 3 pcs.
Wheat flour – 1.2 cups
Sunflower oil – 400 ml
Brown sugar – 0.5 cups
Cinnamon – 2 tablespoon.
Directions
To cook the sauce, pour the condensed milk into a medium saucepan and cook it over medium heat, stirring occasionally, until it gets a caramel color, for about 10 minutes. Add the coconut milk gradually and stir until smooth (for 5 minutes). Remove the saucepan from the heat.
Combine the whole milk, butter, sugar, vanilla extract, and salt in another saucepan. Bring it to a boil over medium heat, stirring until the butter melts and the sugar dissolves. Reduce the heat and add 1.25 cups of flour, stirring constantly, so no lumps form. Remove the saucepan from the heat and leave it for 5 minutes. Add the beaten eggs.
Transfer the dough to a cookie press with a star-shaped tip.
Heat up a frying pan with the vegetable oil over medium heat.
Meanwhile, cover a large plate with a paper towel to soak up the excess oil from the cooked churros.
Combine the brown sugar, cinnamon, and granulated sugar and spread it on the baking paper. Set it aside.
Use a cookie press to make churros of the desired length and place them into the pan. Use a knife to separate them. Brown them and flip them over, fry them for about 1-2 minutes. Take them out of the pan when they are done and place them on a paper towel for a while.
Coat the churros in the prepared sugar mixture and serve them with the condensed milk sauce.
Also Like
Comments for "Mexican Homemade Mini Churro Recipe"