Authentic Lasagna Recipe
by Editorial Staff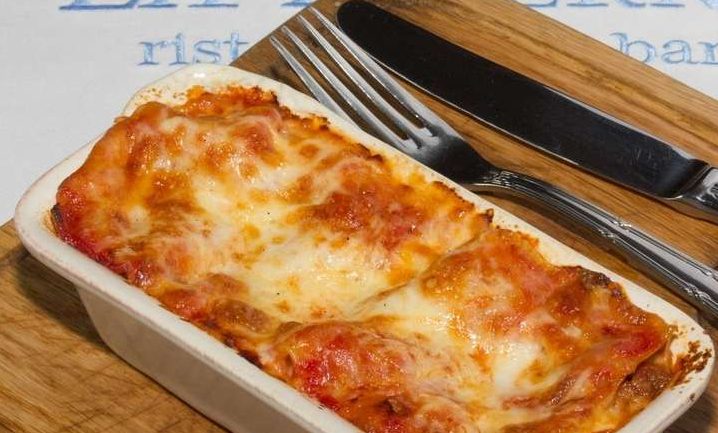 Italian lasagna is a traditional national dish of Italian cuisine, which has long been loved by people outside this state. Today, classic lasagna is prepared both in restaurants and at home.
Ingredients
Lasagne sheets (30 g)
Parmesan cheese (60 g)
Mozzarella cheese (60 g)
Beef fillet (300 g)
Refined vegetable oil (20 g)
Onions (30 g)
Carrots (30 g)
Celery (20 g)
Tomato paste (15 g)
Tomatoes in their own juice (100 g)
Dry red wine (100 g)
Granulated sugar (3 g)
Ground black pepper (2 g)
Butter (20 g)
Wheat flour (20 g)
Cow's milk (100 g)
Ground nutmeg (1 g)
Table salt (to taste)
Instructions
Prepare all the ingredients, peel and chop the onion in a blender or chop very finely with a knife. Rub the washed and peeled carrots on the finest grater. Heat a frying pan with a little olive oil and fry the chopped vegetables in it.

We wash, dry, and mince the beef with a couple of garlic cloves (optional) for spiciness. Salt and pepper the meat to taste, add the minced meat to the pan to the vegetables, mix and fry the ingredients.
When the meat acquires a matte color, add the specified amount of tomato paste to the pan, mix, cook for 3-4 minutes and pour the ingredients with wine. We send chopped tomatoes in their own juice to the pan when the wine has evaporated by about one third. Cover the pan with a lid and simmer the filling for 40 minutes, salt and pepper to taste, add a little sugar.
In order to prepare the lasagna sauce, we need to melt a small piece of butter in a saucepan. Then pour the specified amount of flour into the saucepan, mix the ingredients with a whisk and fry for 1 minute. Add milk at room temperature. Bring the sauce to thicken over low heat, add a little nutmeg and salt.
Select a suitable small baking dish, put the sauce on the bottom in an even layer, lay a raw layer of lasagna pasta on top of it, cover the pasta sheet with creamy sauce, then spread the cooked meat and vegetables. On top of them, pour a little cheese grated on a coarse grater and then again the béchamel sauce.
Repeat with all the remaining ingredients: there should be 4 layers of pasta. Cover the last sheet of the pasta generously with béchamel sauce and pour out all the remaining cheese. We pack the form tightly in foil. We heat the oven to 160 degrees and send the form into it to bake for 20-25 minutes. After the specified time has elapsed, remove the foil and continue baking the lasagne until golden brown.

We serve the finished dish hot. Real Italian lasagna is ready. Bon appetite!
Also Like
Comments for "Authentic Lasagna Recipe"