Burrito (Simple Recipe)
by Editorial Staff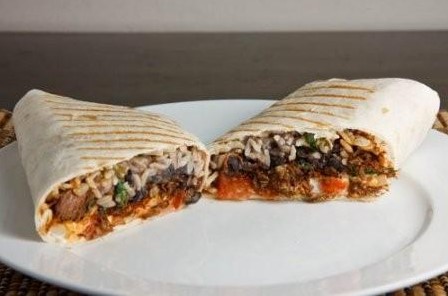 Today we are preparing with you an exotic meal of Mexican cuisine. A burrito is a wheat tortilla wrapped in minced meat, beans, and sometimes cheese. The flatbread, by the way, is called the beautiful word "tortilla" or in the Spanish style "Tortillas".
Cook: 1 hour 20 mins
Servings: 10
Ingredients
Flour 3 glasses
Butter 50 gr
Baking soda 1.5 teaspoon
Water 1 glass
Pork 900 gr
Beans 500 gr
Tomato paste 1 glass
Broth 1.5 glass
Sauce, pasta 2.5 tbsp
Sour cream 100 gr
Vegetable oil 3 tbsp
Salt to taste
Orange zest1 teaspoon
Ground red pepper 0.5 teaspoon
Directions
For the Tortilla, knead an elastic dough. To do this, mix flour, salt, soda, softened butter, and water and knead for a long time. Let stand for half an hour. Divide into 10 parts and roll out thin cakes, fry in a pan on both sides.
Let's start preparing the filling. Bake the salted pork in the oven until the meat is tender. Then cut into small pieces. In a saucepan, combine broth, tomato paste, zest, and spices. Cook until lightly thickened and add pieces of meat with the sauce for 5 minutes.
We wrap the filling in flat cakes, put it in envelopes, be sure to warm it up in the oven. Be spicy and hot))
Serve with guacamole, sour cream, and beans.
Also Like
Comments for "Burrito (Simple Recipe)"