Burrito for Breakfast
by Editorial Staff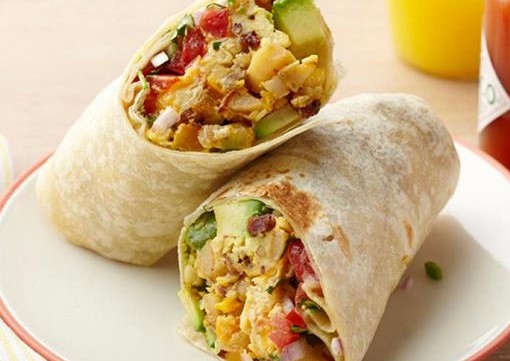 All the breakfast ingredients – vegetables, fried eggs and chips, cheese, and uncoated fried chorizo ​​- are wrapped tightly in a large flatbread where they stay warm for a long time. It turns out very tasty, juicy, satisfying, and practical.
Cook: 30 mins
Servings: 4
Ingredients
4 large burrito tortillas
2 teaspoon vegetable oil
240 gr. raw Mexican chorizo ​​sausage, peel
1 tablespoon. frozen potatoes with peppers and onions for frying
8 large eggs
hot sauce
1 avocado, chopped
0.5 tablespoon. finely grated cheddar
Pico de gallo:
2 tomatoes, diced
half jalapeno, diced (seeded if desired)
half small red onion, diced
0.5 tablespoon. leaves, coarsely chopped (set aside a little for fresh serving)
juice of half a lime
Directions
Pico de gallo: In a small bowl, combine the tomatoes, jalapenos, onions, cilantro, and juice. Season with salt and pepper.
Topping: In a large non-stick skillet, heat the oil over medium-high heat. Add chorizo ​​and grill, crunching, until lightly crisp, about 5 minutes. Transfer with a slotted spoon to a plate lined with paper towels. Add the potatoes to the skillet and cook, stirring occasionally, until golden brown and crispy, 8-10 minutes.
In a medium bowl, beat eggs until frothy. Season with salt and pepper and add a couple of drops of hot sauce. Pour the eggs over the potatoes and cook, stirring occasionally, until they are set, about 3 minutes. Remove from skillet and keep warm.
Dry the pan and put it back on the stove. Heat each tortilla in a skillet.
Burrito: Lay the avocado, filling, about 1 tablespoon on top of the tortilla. l. pico de gallo and sprinkle with cheese. Fold the tortilla on both sides and roll into a tight roll. Sprinkle with cilantro and serve with pico de gallo and hot sauce.
Also Like
Comments for "Burrito for Breakfast"