Burrito with Beef
by Editorial Staff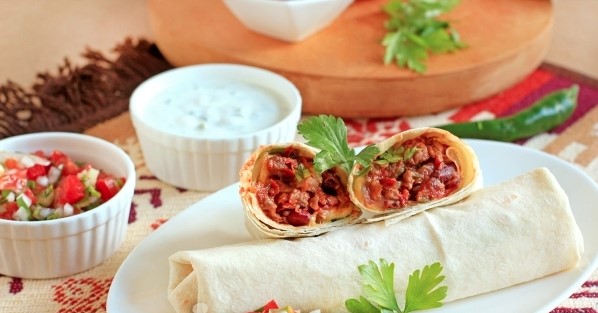 The beef burrito is perhaps one of the most famous Mexican dishes. Make a savory Mexican beef burrito at home. It's easy!
Ingredients
Beef – 300 g
Bulb onions – 1 pc.
Sweet pepper – 1 pc.
Green chili pepper – 1 pc.
Garlic – 2 cloves
Tomatoes – 2 pcs.
Canned beans – 1 can
Cilantro – bunch
Gouda cheese – 50 g
Tortilla or lavash – 4 pcs.
Vegetable oil – 3 tablespoon.
Ground coriander – 0.5 teaspoon
Lemon juice to taste
For filing:
Salsa sauce
Sour cream sauce
Directions
Let's start with the meat. Beef should be ground or chopped finely. I prefer the latter. Chop bell peppers, onions, garlic, and chili finely.
If you are not sure about the tenderness of the meat and how quickly it is cooked, then it should be cooked and stewed in advance so that it becomes tender. I fried pieces of beef in vegetable oil and then stewed with the addition of water and salt until the desired degree of softness and complete boiling of the liquid. Place the meat on a plate. Fry the onion with the meat juice and butter.
Add bell peppers and chili peppers. Fry for 2-3 minutes. Then add the prepared meat and garlic. Sprinkle with ground coriander. Warm-up everything together for another minute. Send ground tomatoes to a saucepan, mix and fry for another minute.

Warm up the tortilla in a frying pan, roll the thin pita bread. Add cilantro leaves and cheese. If hard cheese is used, then grate it. Then spread out the hot filling and quickly roll the burrito into a tight roll.

From this amount of food, exactly 4 beef burritos are obtained. Serve with sour cream and garlic sauce, spiced with herbs and peppers, or hot salsa sauce. Bon appetit, delicious!
Also Like
Comments for "Burrito with Beef"