Burrito with Shredded Beef Recipe
by Editorial Staff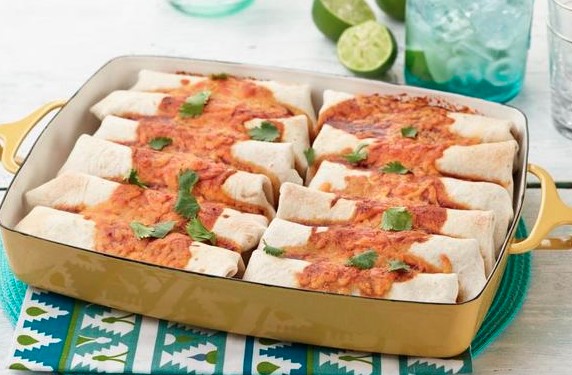 This is one of those recipes that comes to mind when your family is sitting at the table and shouting, banging the table with a fork. If you find chunks of beef and beans in your fridge, simply wrap them in a tortilla. And after 20 minutes, to applause, you can serve something small, hot, and tasty.
Cook: 20 mins
Servings: 8
Ingredients
900 gr. chopped cooked beef
3 cans (200 g each) tomato sauce for enchiladas
1 can refried beans
1 medium onion
1/2 teaspoon ground cumin
1/4 teaspoon chili seasoning
1/4 teaspoon oregano
1/4 teaspoon salt
3/4 tablespoon. grated cheddar, plus 12 tortillas for sprinkling
1/2 tablespoon. chopped cilantro
Directions
Preheat oven to 100 degrees. In a large skillet over high heat, sauté the onions until tender. Then add the beef, cumin, chili, and oregano; salt and stir.
Pour in the tomato sauce and simmer the meat in the sauce over low heat for 5 minutes. Add some water if the sauce gets too thick. Meanwhile, in a saucepan, heat the refried beans over medium heat, add the cheese, and stir until melted. Remove from heat.
Heat the tortillas in the microwave for 1 minute, then spread the bean paste over each. Add meat sauce. Fold the tortillas into an envelope and place them in a baking dish. Cover with foil and send to oven. When the burritos are baked, remove them from the oven and pour over the remaining tomato sauce from the filling.
Sprinkle with cheddar and bake for a couple of minutes until the cheese melts. When serving, sprinkle the burrito with cilantro, and place directly on the forks in your household's hands. They will kiss and hug you repeatedly. You did everything playfully.
Also Like
Comments for "Burrito with Shredded Beef Recipe"