Beef Lasagna Recipe
by Editorial Staff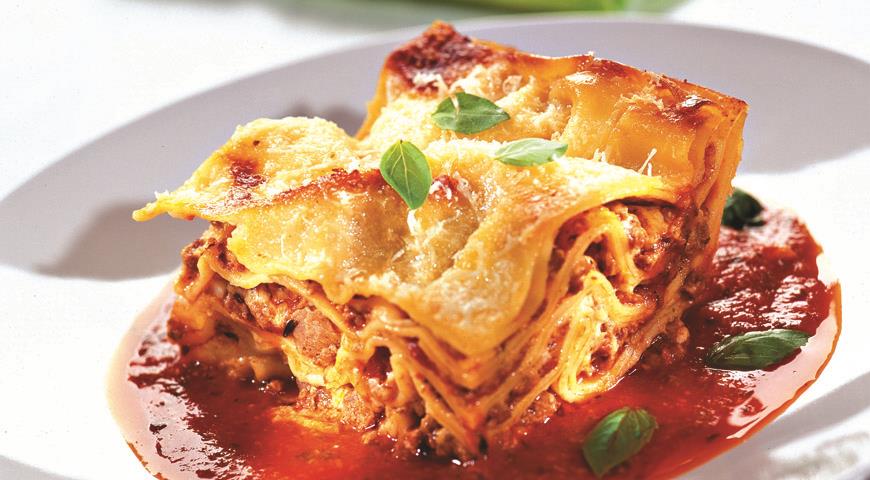 Today we offer you a recipe for a wonderful dish – a classic lasagna recipe. It's traditionally made with beef, but veal is fine too. If you haven't cooked lasagna before, be prepared to tinker a little. But this is only the first time. When you understand the whole mechanism of cooking this wonderful dish, then you will already cook it with your eyes closed.
Ingredients
12 sheets of lasagna
olive oil – 1 tablespoon
1 teaspoon dry thyme
garlic – 1 clove
4 tbsp grated parmesan
150 g tomatoes in their own juice
450 g boneless beef
3 tbsp dry white wine
onion – 1 piece
1 teaspoon dry oregano
salt
butter – 50 g
1/4 cup flour
nutmeg
900 ml milk
Ricotta Barilla Sauce
Instructions
Peel and chop the onion and garlic. Grind the meat into minced meat. Heat oil in a frying pan, fry the onion, 2 minutes. Add minced meat and garlic, cook for 10 minutes, stirring occasionally. Season with salt and pepper.
Pour in the wine, cook for 2 minutes. Add dry herbs and tomatoes. Stir, knead the tomatoes with a spoon, and remove from heat. Cover and set aside.
Prepare the white sauce. Heat the milk. Melt the butter in a saucepan, add flour, and cook, stirring occasionally, for 2 minutes. Gradually pour in hot milk, stirring constantly with a whisk. Bring to a boil, reduce heat and cook while stirring. Add parmesan, nutmeg, salt, and pepper.
Boil water in a wide saucepan, add salt. Place a bowl of cold water nearby. Dip the lasagna sheets in boiling water for 2-3 minutes. and immediately transfer to cold.
Preheat oven to 190 ° C. Place a layer of lasagna sheets in a baking dish, then part of the minced meat and part of the white sauce. Then put the lasagna sheets, minced meat, sauce again. Continue stacking in this way until all ingredients are gone. The top layer should be lasagne sheets. Sprinkle with Parmesan. Place in the oven and bake for 35 minutes.
Heat Ricotta sauce in a saucepan without boiling. Cut the finished lasagne into pieces. Serve with sauce.
Also Like
Comments for "Beef Lasagna Recipe"