Lasagna Recipe Beef
by Editorial Staff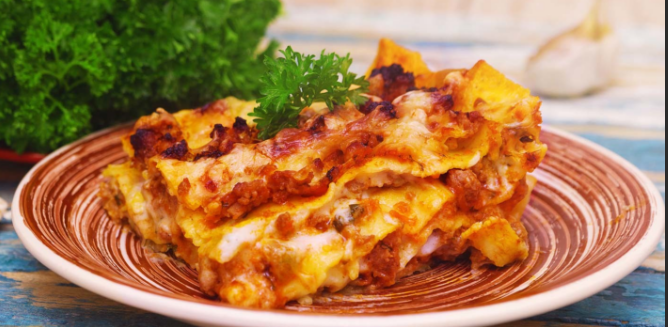 Lasagna is a traditional Italian dish. The process of cooking at home itself is not complicated, but very laborious due to the number of processes and the time taken to prepare two sauces – béchamel and bolognese with ground beef. Making the sauces is, for me, the hardest part of a lasagna recipe. But purchased pasta is very convenient and simplifies the life of cooks.
Ingredients
Pasta sheets (10 × 20 cm) – 9-12 pcs.
Minced beef – 600 g.
Tomato paste – 70 g.
Tomato juice – 100 ml.
Carrots – 1 pc.
Garlic – 1-2 cloves
Onions – 1 pc.
Combined greens (parsley, dill) – 0.5 bunch
Olive oil – 3 tbsp
Butter – 50 g.
Flour – 50 g.
Milk – 900 ml.
Water – 0.5 cups
Cheese – 200 g.
Salt, black pepper, bay leaf, nutmeg, sugar – to taste
Instructions
I peel onions, carrots, and garlic. Then I prepare them for frying, finely chop them. Pour olive oil into a frying pan; add carrots and onions to a hot frying pan.
I add minced meat to the sautéing and distribute it evenly over the entire surface. I add a little water, bay leaf, salt, and black pepper to the minced meat. I continue to simmer over medium heat for about twenty minutes.
After twenty minutes I add tomato paste, slightly diluted with tomato juice, chopped herbs, and garlic. And stew for another five minutes.
In a saucepan, I melt the butter. I add flour to the butter and mix very well with a whisk so that there are no lumps.
I add milk without stopping stirring. I continue to cook until boiling. When the béchamel sauce boils, add nutmeg (I added 0.5 teaspoons), salt, and black pepper.
I rub the cheese on a coarse grater. Grease the baking dish with olive oil and pour the béchamel sauce with a ladle. I spread three sheets of pasta on the sauce.
On top of the pasta, evenly spread the bolognese sauce with minced meat. On top of the pasta, evenly spread the bolognese sauce with minced meat. Pour the lasagna with the béchamel sauce again, and in the same sequence, I spread the pasta sheets, bolognese sauce, cheese, béchamel sauce.
I send the lasagna to an oven preheated to 220 degrees for 25-30 minutes.
The Italian lasagna with ground beef is ready, but it needs to cool down a little, then it will be better cut. Garnish with herbs if desired.
Also Like
Comments for "Lasagna Recipe Beef"