Baked Chicken Burrito Recipe
by Editorial Staff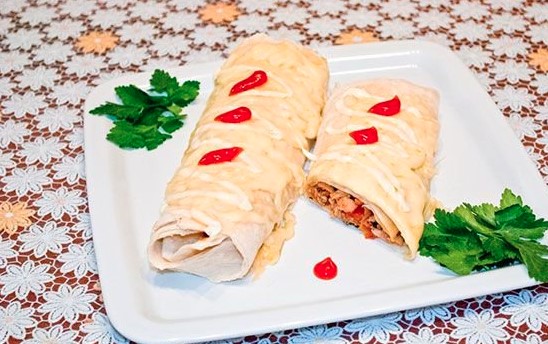 Recently, people have shown great interest in Chinese, Italian, Mexican, Brazilian cuisine. How to cook burrito? In this recipe, I propose a step-by-step preparation of a home-style burrito from products that are available to everyone, and as a tortilla, there will be ordinary lavash. Let's get started!
Servings: 6
Ingredients
Chicken breasts – 2 pcs. (boil in salted water)
Sweet bell pepper – 1 pc.
Fresh tomatoes – 2 pcs.
Fresh mushrooms – 200 g (or 1 can of salted)
Onions – 2-3 heads (it is better to use red)
Parsley – 1 bunch
Garlic – 1-2 cloves
Lean oil – 3 tbsp
Cheese – 150 g (semi-hard varieties)
Armenian lavash – 6 pcs. (you can use corn tortilla)
Ketchup – 2 tbsp
Mayonnaise – 1 tbsp
Salt
Pepper
Directions
Peel the onion and cut it into half rings. Boiled chicken breast fillet – diced. Sweet peppers – medium pieces. Finely chop the parsley. Tomatoes – cut into cubes. Rub the cheese on a grater. Chop the garlic finely. Mushrooms, if they are fresh, we will cut across thin plates, and if canned, cut into pieces, then nothing needs to be done.
Heat the vegetable oil in a frying pan. Fry the onions. Add finely chopped garlic and fry it all for 2-3 minutes until golden brown. Add the chicken, stir and fry for 2-3 minutes.
Add mushrooms. If you are using raw mushrooms, increase the frying time to 5 minutes. We mix. Next, add the bell peppers and make our burrito filling bright! Fry for 2-3 minutes to soften the pepper. Salt the resulting mass a little, add a little black pepper.

It's time to add the chopped tomatoes. Mix everything and fry for 2-3 minutes. Next, add the chopped parsley. Burrito won't be so fragrant and beautiful without greenery! Stir and simmer a little – 2-3 minutes. That's it, the filling for the burrito is ready. Now the most important thing: the filling of the burrito cakes.

Rolling burritos deserves special attention. I tried to make it as clear as possible. We unfold the pita bread (or tortilla), put the filling in the middle, which needs to be cooled a little. Cover the top with pita bread and pull it to the edge. Then we wrap the edges on the right and left and fold them up with an envelope. Next, wrap the whole pita bread completely. Burrito is ready. We also make all the pita bread. Sprinkle the burrito on top with grated cheese. And we send it to the oven or microwave (it is possible with the grill function – this will make the cheese more ruddy).

We take out the burrito from the microwave (or oven). On top, we apply a pattern with mayonnaise and ketchup. For example, as in the photo.
Also Like
Comments for "Baked Chicken Burrito Recipe"