Baked Lasagna Recipe
by Editorial Staff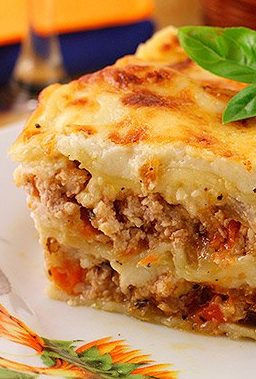 Lovers of Italian cuisine will never pass by this dish. Having tasted lasagna, you will immediately fall in love with this extraordinary combination of products. Try making Italian lasagna yourself at home, it's not difficult as it might seem at first glance. Lasagna can be safely prepared for the festive table. The dish turns out to be very satisfying, so from the specified amount of ingredients you can feed a rather large company. And do not hesitate, homemade lasagne will appeal to everyone, without exception.
Ingredients
Lasagne leaves 9 pcs (200 g)
Milk 800 ml
Minced meat 1 kg
Cheese 350 g
Tomato 500 g
Flour 80 g
Onion 200 g
Butter 80 g
Carrots 150 g
Garlic 4 cloves
Instructions
Finely chop the onion, grate the carrots on a medium grater. Chop the garlic. Chop the tomatoes in a blender. Fry onions, garlic, and carrots in vegetable oil.
Add minced meat, tomatoes, salt, and pepper and fry until tender. Dried basil and oregano can be added for flavor.
Sauce: Melt the butter. Add flour, milk, salt, pepper, stir with a whisk so that no lumps form. Bring to a boil and remove from heat. Grate the cheese on a fine grater.
Place the lasagna sheets in a greased dish. Place half of the minced meat on the lasagna sheets. Pour the minced meat with 1/3 of the sauce. Sprinkle with 1/3 of the cheese.
Cover with lasagna sheets. Place the remaining minced meat on top. Brush with half of the remaining sauce. Sprinkle with half of the remaining cheese.
Layout the sheets again. Brush with the remaining sauce.
Sprinkle with the remaining cheese. Bake lasagna with minced meat in the oven for 45 minutes at 180 degrees.
Also Like
Comments for "Baked Lasagna Recipe"