Burrito Bowl
by Editorial Staff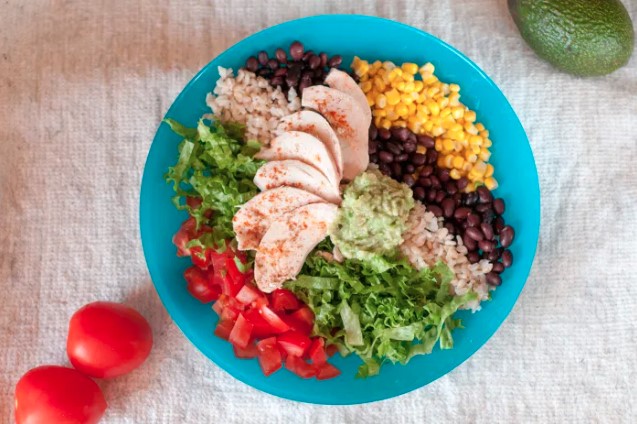 Try the Mexican Burrito recipe in a bowl for a light dinner or nutritious lunch. With this variety of ingredients, we get the full spectrum of nutrients. This is a lazy, semi-salty version of the traditional burrito. First, we avoid the wheat cake wrapping process by serving the burrito in a bowl. And secondly, we only stick to wholesome ingredients.
Ingredients
1 cup cooked brown rice
1 cup corn, frozen or from a jar
1 can of black beans
2 tomatoes
4 lettuce leaves
1 boiled or baked boneless chicken breast
1 avocado
A little lemon juice
Salt
A pinch of ground cumin (cumin) and chili pepper
Directions
Defrost the corn, or rinse it from a jar. Throw in a colander. Rinse the beans and drain off the water.
Cut the tomatoes into small cubes. Chop the lettuce leaves into small strips. Cut the chicken into slices.
Mash the avocado with a fork in a small bowl with a little lemon juice and a pinch of salt.
Divide the ingredients in half and place in a deep bowl. Serve the dish at room temperature, season the chicken with cumin and chili.
Also Like
Comments for "Burrito Bowl"