Carrot Cake Simple Recipe
by Editorial Staff
The cake recipe is really very simple. I have in my books recipes for carrot cake with a lot of ingredients. And oil is added everywhere. I did it with butter. It seemed to me that the dough turns out to be heavy. So I make the cake my own way. And I like this option more.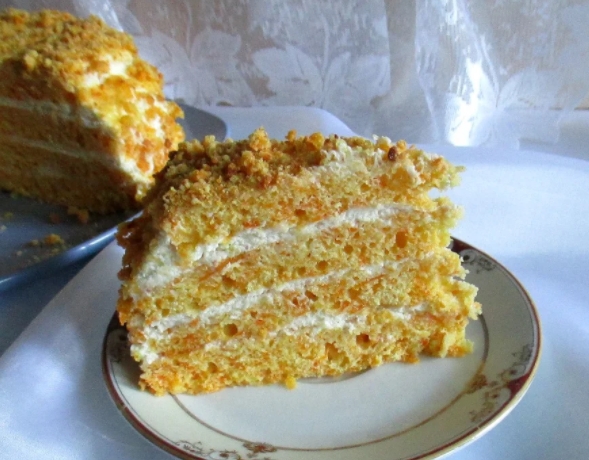 Ingredients
flour – 13 tablespoon. l .;
sugar – 1.5 tablespoon.;
eggs – 4 pcs.;
carrots – 250 g;
baking powder – 1 sachet;
vanillin – 1 sachet.
For the cream:
thick sour cream – 400 g;
condensed milk – 0.3 cans;
icing sugar – 2 tablespoon. l.
Directions
Peel and wash the carrots. Rub on a medium grater.
Pour sugar into a bowl, beat in eggs.
Beat the mass with a mixer.
Add carrots to the beaten eggs.
Stir.
Sprinkle in flour, adding baking powder and vanillin.
Mix the dough well. It should look like a pancake. Do not make it liquid, because when baking the cakes, the carrots still give juice.
Line a baking sheet with parchment. Spoon a portion of the dough – about 1/4 of the total – and spread in a circle.
Bake at 180 ° for 20-22 minutes.
Turn over on a towel, remove the parchment. Place a lid or plate on the cake and cut out a stencil.
Bake 4 cakes in this way.
You will still need the trimmings.
Since they are soft, they need to be dried. Put them on a baking sheet, put them in the oven for ten minutes.
When they are cool, grind in a blender until they are coarse.
While the cakes are cooling, prepare the cream.
To do this, mix sour cream, condensed milk and powdered sugar in a deep container. Beat with a mixer.
Layer each crust over with cream, stacking one on top of the other.
Brush the sides and top of the cake with cream.
Sprinkle with crumbs.
Leave in a cool room, but not in the refrigerator, for 4-5 hours. Then you can put the cake in the refrigerator.
Enjoy your tea!
Also Like
Comments for "Carrot Cake Simple Recipe"