Pumpkin Cake (Simple Recipe)
by Editorial Staff
If you also love easy yet delicious baking recipes, check out How to Make Orange Flavored Pumpkin Cake, Sour Cream, and Wet Breads, you'll love it!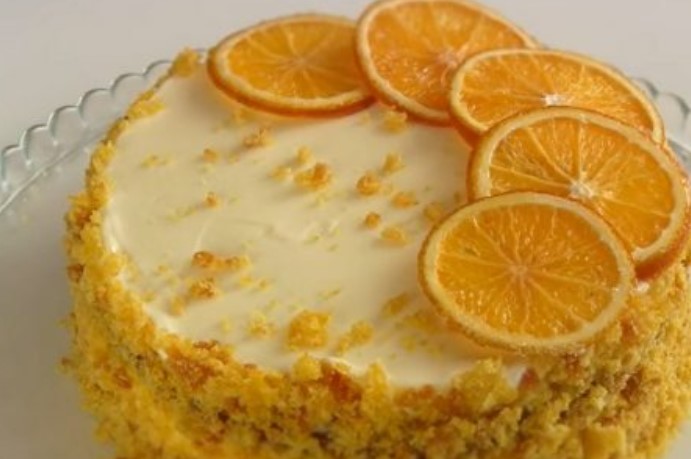 Cook:19 hour
Servings: 4
Ingredients
Flour – 200 Grams
Vegetable oil – 110 Grams
Sugar – 280 grams (180g per dough, 100g per cream)
Pumpkin – 200 Grams (peeled)
Sour cream – 400 grams (weighed)
Egg – 2 Pieces
Baking powder – 2 Teaspoons
Orange zest – 1 Piece
Salt – 1 Pinch
Orange juice – 1 Piece (+ 3 tablespoons of sugar)
Directions
Prepare the dough: beat eggs with a mixer with sugar and vanilla sugar until fluffy white mass. Add vegetable oil, salt, sifted flour, and finely grated pumpkin.
Add orange zest, baking powder and mix well. Divide the dough in half and bake two cakes. Line the form with parchment, distribute the dough in it and bake for 25-30 minutes in an oven preheated to 180 degrees.
Let the cakes rest for 2-3 hours, cut off the tops from them (they can be grated on a coarse grater, you get a crumb for decoration.
Prepare the cream: mix the weighed sour cream with sugar. Mix orange juice with 3 tablespoon. tablespoons of sugar and boil over low heat for 8-10 minutes, stirring constantly.
Cool the syrup in the refrigerator and add to the cream. Stir. Apply half of the cream to the first crust, cover with the second (do not press).

Cover the sides and top of the cake with cream and sprinkle with crumb crumbs. Leave in the refrigerator for 6-8 hours.
Bon Appetit!
Also Like
Comments for "Pumpkin Cake (Simple Recipe)"