Fresh Cabbage Soup (Classic Recipe)
by Editorial Staff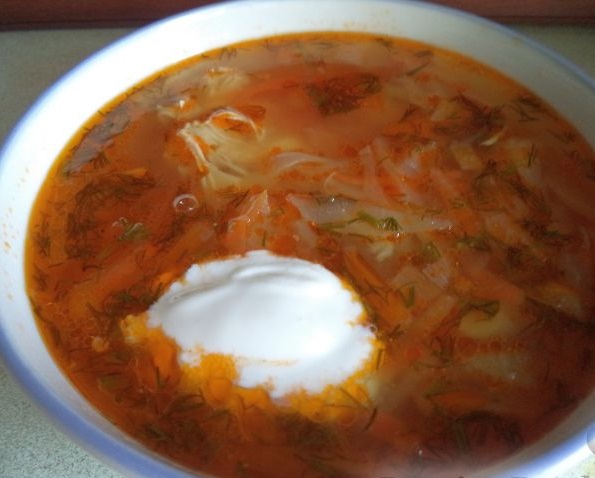 Cooking cabbage soup for lunch. It's simple.
Ingredients
Meat (pork) – 500 g
White cabbage – 500 g
Carrots – 1 pc.
Bulb onions – 1-2 pcs.
Tomato paste – 1 tbsp
or fresh tomatoes – 2 pcs.
Potatoes – 2 pcs.
Vegetable oil – 2 tbsp
Greens – 0.5 bunch
Bay leaf – 1-2 pcs.
Sour cream (for serving) – 100 g
Garlic (optional) – 2-4 cloves (to taste)
Ground pepper – 1 pinch (to taste)
Salt – 0.5-1 tbsp (to taste)
Directions
Prepare food.
Wash the meat, pour cold water (2-2.5 l) in a saucepan. Put the pan on the fire, bring the water to a boil, remove the foam with a slotted spoon.
Reduce heat to low, cover. Cook the broth until the meat is tender (about an hour). The boiled meat can be removed, cut into pieces, and added to the soup.
While the meat is cooking, prepare the vegetables. Peel the carrots, grate on a coarse grater. Peel the onion and cut it into small cubes.
Preheat a frying pan, pour in vegetable oil. Put onions and carrots in hot oil. Fry over medium heat for 1-2 minutes.
Add tomato paste. (If using fresh tomatoes, cut them into wedges and add to the carrots and onions.)
Stir, continue to fry vegetables for another 5-7 minutes, stirring occasionally.
Cut the cabbage into squares or strips.
Peel the potatoes, cut into small pieces.
Put cabbage, potatoes in broth and bring to a boil.
(Add ripe cabbage with potatoes, put young cabbage in the soup 7 minutes before the end of cooking.)
Add frying. Cook cabbage soup from fresh cabbage at a low boil for 15-20 minutes.
Finely chop the greens.
Peel the garlic (if used), crush it with salt.
At the end of cooking, add pepper, bay leaf and, if desired, pounded garlic with salt to the soup.
Add herbs and remove from heat. Let the soup steep for 10-15 minutes.

Serve cabbage soup with sour cream. Enjoy your meal!
Also Like
Comments for "Fresh Cabbage Soup (Classic Recipe)"