Fresh Cabbage Soup with Fish
by Editorial Staff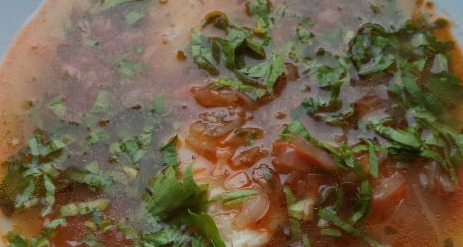 Fish soup can be prepared from different types of fish, for example, from pike perch, pike, burbot, catfish, cod, etc.
Cook: 1 hour
Servings: 6
Ingredients
Fish (thawed) – 600 g
White cabbage – 600 g
Carrots – 140 g
Onions – 120 g
Parsley root – 30 g
Tomato paste – 1-2 tbsp
Greens – 0.5 bunch
Flour – 50 g (2 tablespoons)
Bay leaves – 1-2 pcs.
Black peppercorns – 5-6 pcs. (taste)
Ground black pepper – 0.25 teaspoon (to taste)
Salt – 1 tbsp (to taste)
Vegetable oil – 25 ml
Butter or margarine – 25 g
Fish broth – 1.7 l
How to cook fish soup with fresh cabbage:
Directions
Pour the pieces of fish with a small amount of water, add bay leaves, peppercorns, salt, and cook after boiling for 8-10 minutes over low heat.
If whole fish carcasses were used, you can also cook fish broth from the heads, fins, and bones: fill with water, bring to a boil, remove the foam, cook on low heat for 20 minutes.
Peel and chop the carrots, parsley root, and onion.
Preheat the pan, pour in the oil. Put the vegetables in the pan. Saute vegetables over medium heat for 3-5 minutes.
Add tomato paste. Stir, simmer for a couple of minutes.
Shred cabbage.
For fish soup, we use both types of cooked broth – filter and pour into one pan.
Put cabbage in boiling fish broth.

Bring to a boil.
We lay the sautéed vegetables in a tomato and cook the cabbage soup for 15-20 minutes (if you use young cabbage, reduce the cooking time).
In a preheated frying pan with butter, lightly saute the flour, stirring occasionally.

Add sauteed flour, salt, ground pepper to taste into the soup. Bring to a boil, boil over low heat for another 3-5 minutes.
My greens and chop finely.
When serving, put a couple of pieces of boiled fish on a plate.
Pour cabbage soup into a plate with fish, sprinkle with chopped herbs.
Enjoy your meal!
Also Like
Comments for "Fresh Cabbage Soup with Fish"