Fresh Cabbage Borsch
by Editorial Staff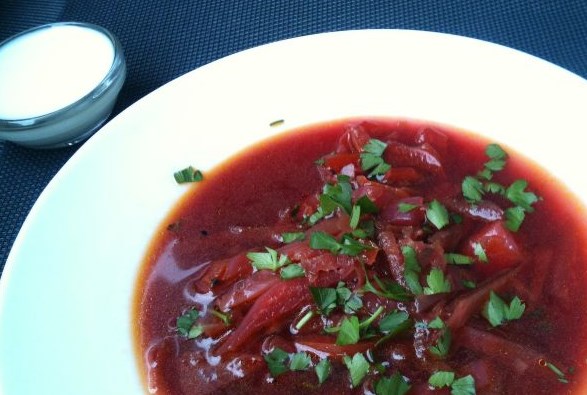 Of course, every housewife knows how to cook borsch with potatoes from fresh cabbage, and each does it in her own way. Therefore, each recipe for borscht with fresh cabbage has nuances that may interest you. We offer one of the options.
Cook: 1 hour
Servings: 8
Ingredients
Water – 2 l
Cabbage – 250 g
Potatoes – 3 pcs.
Beets – 1 pc.
Carrots – 1 pc.
Bulb onions – 1 pc.
Bulgarian pepper – 1 pc.
Vegetable oil – 3 tbsp
Tomato paste – 2 tbsp
Parsley greens – 0.25 bunch
or Dill greens – 0.25 bunch
Salt – 2-3 teaspoon
Directions
Beets and carrots are peeled, washed, and grated. Peel and chop the onion.
Vegetable oil is poured into a saucepan with a thick bottom, heated, grated vegetables, and onions are laid out and fried for 5 minutes. Put tomato paste in vegetables and stew for another 4-5 minutes.
The cabbage is chopped. Peel and rinse the potatoes. Cut the peeled potatoes into small pieces. Bell peppers are washed and peeled from seeds, cut into strips.
2 liters of boiling water are poured into a saucepan. Spread the cooked cabbage, peppers, and potatoes in boiling water and cook for 5-10 minutes.

Add the roasted vegetable dressing to the saucepan. Stir. Cook for 5-10 minutes. Salt to taste and bring to a boil again. Borscht with fresh cabbage potatoes is ready.
Also Like
Comments for "Fresh Cabbage Borsch"