Green Borsch with Rice
by Editorial Staff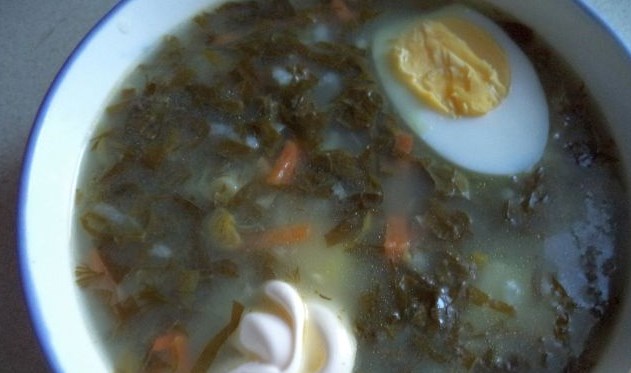 Spring, everything is green … 🙂 We cook the greenest borscht for lunch. You can cook meat broth for borscht in advance, or you can cook green borscht in water.
Cook: 50 mins
Servings: 8
Ingredients
Sorrel – 200 g
Spinach – 100-150 g
Rice – 3-4 tbsp
Bulb onions – 1 pc.
Carrots – 1 pc.
Potatoes – 3-4 pcs.
Green onion – 4-6 feathers
Chicken eggs – 3-4 pcs.
Wheat flour – 1 tbsp
Vegetable oil – 2 tbsp
Bay leaves – 1-2 pcs.
Salt to taste
Peppercorns – 5-7 pcs.
Dill – to taste
Sour cream – to taste
Directions
Products for green borscht with rice in front of you.

Sort the spinach and sorrel and rinse well. Cut the greens into thin strips.

Rinse the rice well. Peel and wash the potatoes, cut into pieces.
Boil 2.5 liters of water or broth. Put rice and potatoes in boiling water, cook for about 20 minutes, until the potatoes and rice are cooked.
Place the eggs in a pot of cold water. Add 1 teaspoon of salt, put on fire, bring to a boil. Cook hard-boiled on low heat until tender (about 10 minutes). Drain, pour cold water, cool. Clean.
Peel and wash onions and carrots. Cut the onion into cubes and the carrots into thin strips. Wash and chop the green onion.

Preheat a frying pan, pour 2 tablespoon. tablespoons of vegetable oil. Put onions and carrots in hot oil. Simmer, stirring occasionally, for 2-3 minutes, over medium heat. Add flour. Mix. Simmer for 1 minute.

Put the frying in the soup. Add sorrel, spinach, green onions, bay leaves, salt, and pepper. Boil. Cook green borscht with rice for 3 minutes.
Wash and chop the dill finely. Add dill to the borscht. Ukrainian green borscht is ready.
Serve green borsch with rice, boiled egg, and sour cream.
Enjoy your meal!
Also Like
Comments for "Green Borsch with Rice"