Green Borsch with Sorrel and Turkey Meat
by Editorial Staff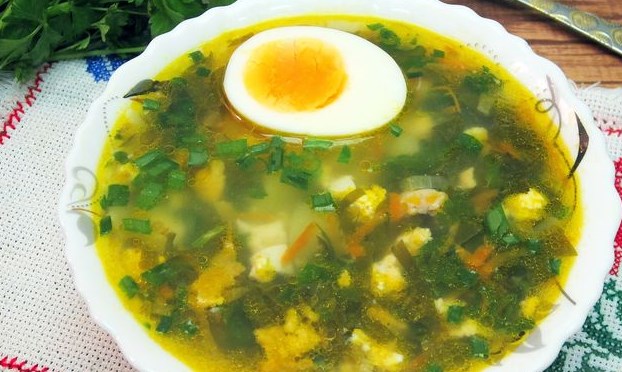 Green borsch with sorrel according to this recipe is made from turkey meat and turns out to be hearty and healthy. Sorrel, green onions, and parsley saturate borsch with vitamins, which are well preserved in the dish with this method of preparation. Diversify your lunch menu with delicious and mouth-watering turkey borscht.
Servings: 7
Ingredients
Turkey meat (drumstick or other parts) – 400 g
Potatoes – 500 g
Sorrel – 120 g
Eggs – 3 pcs. + serve
Carrots – 1 pc. (100 g)
Onions – 1 pc. (100 g)
Green onions – 80 g
Parsley – 30 g
Bay leaf – 2 pcs.
Vegetable oil – 2 tbsp (30 ml)
Salt to taste
Ground black pepper – to taste
Water – 2.2 l
Directions
Fill the turkey shank with water and put on high heat. Bring the water to a boil, remove the foam, reduce the heat, and cook the turkey meat for 1.5 hours. If the meat is boneless, then cook for 1 hour. When the broth is ready, take out the meat, separate it from the bone.

Peel the potatoes and cut them into small pieces. Add potatoes and meat to broth and cook for 5 minutes.

Peel and dice the onions. Preheat a frying pan with vegetable oil. Fry the onion for about 3 minutes, until transparent. Peel the carrots, rub on a coarse grater and add to the onion. Fry the onions and carrots for about 5 minutes, until golden brown.

Put onions with carrots in borscht, add bay leaves and cook for another 10 minutes.
Wash sorrel and cut into strips. Wash the green onions and parsley and chop finely.
Boil the eggs hard-boiled (10 minutes after boiling), cool under cold water, then peel and grind 3 eggs with a crush.
Add green onions, parsley, sorrel, eggs, salt, and ground pepper to taste to the saucepan.

Let the green borscht with sorrel and turkey boil and immediately remove from the heat. After that, cover the pot with green borscht with a lid and let stand for 5 minutes. Serve green borscht with sorrel, putting half a boiled egg on each plate. Bon Appetit!
Also Like
Comments for "Green Borsch with Sorrel and Turkey Meat"