Ukrainian Borsch with Smoked Meat
by Editorial Staff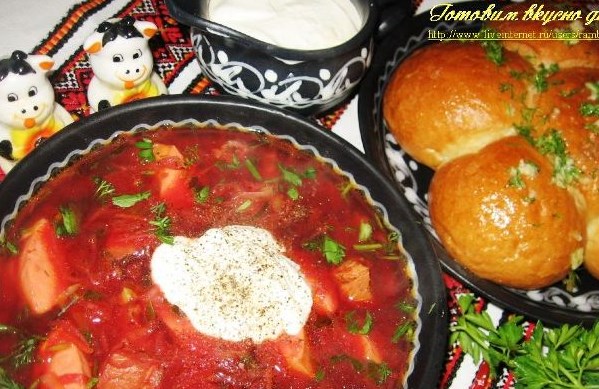 Many writers often mention in their works dishes that at one time were well known, but we have forgotten. Why not cook this wonderful and delicious borscht?
Ingredients
Beef (I have ribs with pulp) – 400 g
Beets – 1-2 pcs. (400 g)
White cabbage – 250-300 g
Parsley root – 50 g
Celery root – 50 g
Carrots – 100 g
Small leeks – 1 pc.
Bulb onions – 1-2 pcs. (120 g)
Vinegar (I took apple cider vinegar) – 1 tbsp
Tomatoes – 1-2 pcs. (200 g)
Smoked meat (ham) – 200 g
Pork sausages – 2-3 pcs. (200-300 g)
Sour cream – to taste
Bay leaf – 2 pcs.
Salt
Ground black pepper
Sugar – 1 tbsp
Fat (lard, butter) – 100 g
Parsley and dill – a bunch
Directions
Pour 3 liters of water over beef and smoked meat, bring to a boil, remove the foam and cook over medium heat until the meat is tender (1 hour or a little more). Remove the prepared meat from the broth.
Chop or grate the beets. Place in a saucepan, drizzle with vinegar, add half the fat, and fry for 5 minutes, stirring occasionally. Then add mashed tomatoes, sugar, bay leaf, soup ladle, and simmer over low heat for 15-20 minutes.

Finely chop the onion. Cut the roots and carrots into small strips. Fry them lightly in the remaining fat. Finally, add the white leeks, cut them into rings.

Chop the cabbage and finely chop the green leeks. I took young cabbage, so I will be the last to throw it into the borscht. Throw the ripe cabbage into the borsch first and cook for 5 minutes.
Peel and cut into sausage pieces. Remove bones from meat and cut into smaller pieces. Dice the ham.

Put the stewed beets, sautéed vegetables, meat, and sausages in the boiling broth and cook for 5 minutes. Add cabbage, salt to taste and cook for 3-5 minutes. Sprinkle with chopped herbs and turn off the heat. Let the borscht brew for at least 20 minutes.
Serve borscht with sour cream, pepper, dill and parsley, and garlic donuts.
Also Like
Comments for "Ukrainian Borsch with Smoked Meat"