Red Borsch with Smoked Ribs
by Editorial Staff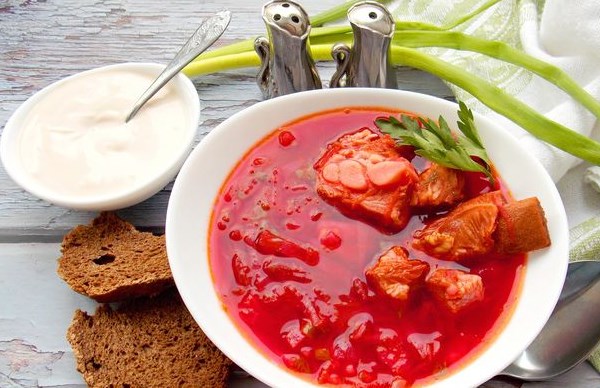 This recipe for red borscht is somewhat different from the one that is usually cooked in our kitchens. This borscht contains not a single gram of vinegar and sugar, but there are smoked ribs, celery root, and bell pepper. It turns out very tasty and aromatic. Try red borscht with smoked ribs and this recipe will live in your kitchen forever.
Cook: 1 hour 50 mins
Servings: 10
Ingredients
Smoked ribs – 300 g
Beets – 1 pc. (200 g)
Potatoes – 3 pcs. (600 g)
White cabbage – 1/4 pcs. (400 g)
Bulgarian pepper – 1/2 pc. (100 g)
Tomato paste – 60 g
Bulb onions – 1 pc. (120 g)
Carrots – 1/2 pc. (80 g)
Celery (root) – 50 g
Vegetable oil – 25 ml
Salt to taste
Bay leaf – 2 pcs.
Green onions – 15 g
Fresh dill – 10 g
Water – 2.5 l
For filing:
Rye bread
Fresh greens – to taste
Sour cream – to taste
Ground black pepper – to taste
Directions
Peel the beets. Wash ribs and beets, place in a saucepan and cover with water. Bring to a boil over high heat. Then reduce heat to low and cook the ribs and beets for 40 minutes. Then remove the ribs and beets from the broth and leave to cool.

Cut the cabbage into thin strips and place in a saucepan with broth. Add salt and cook for 10 minutes. Peel the potatoes, cut into strips and add to the pot.
Peel the celery root, grate on a fine grater and add to a saucepan with vegetables. Cook for 10 minutes. If you grate the celery in advance, then so that it does not darken, fill it with cold water.
Peel the bell peppers from seeds, cut into thin strips and add to a saucepan with broth. Stir and cook for 5 minutes.
Peel the carrots and grate on a coarse grater. Heat vegetable oil in a skillet and add carrots.
Peel the onion and chop finely. Add the onions to the skillet with carrots. Fry for 7 minutes, stirring.

Add tomato paste to the skillet with carrots and onions and stir. Fry for another 7 minutes, stirring to prevent carrots and onions from burning.
Grate the cooled beets on a coarse grater.
Cut the ribs into pieces and add to the saucepan.
Then add the beets. Put the fried vegetables with tomato there.
Add bay leaves and simmer the borsch with smoked ribs, celery root, and bell peppers over low heat for 5 minutes.

Finely chop the dill and green onion, add to the saucepan, and stir. Bring the borsch to a boil and immediately remove from heat.
Borsch with smoked ribs is ready. Pour borscht into bowls, pepper, and serve with rye bread, sour cream, and herbs. Bon Appetit!
Also Like
Comments for "Red Borsch with Smoked Ribs"