Stewed Vegetables with Smoked Ribs
by Editorial Staff
Great lunch for the whole family. The combination of smoked ribs and stewed vegetables is the best you can imagine! In the summer, we often cook such a dish.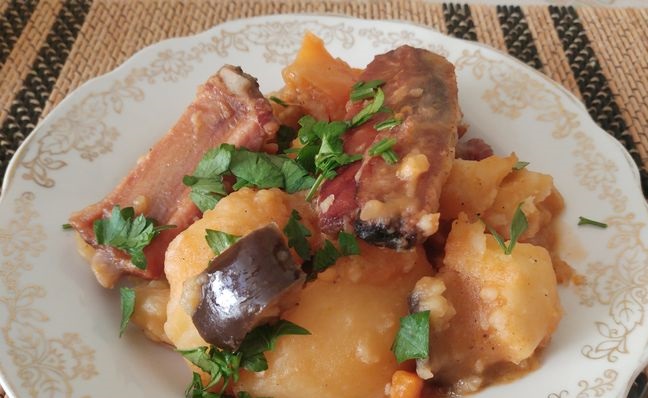 Cook: 1 hour
Servings: 4
Ingredients
Smoked pork ribs – 600 g
Potatoes – 800 g
Eggplant – 1 pc.
Bulgarian pepper – 1 pc.
Bulb onions – 1 pc.
Carrots – 1 pc.
Vegetable oil – 3 tbsp
Salt – 1 tbsp
Ground black pepper – 0.25 teaspoon (to taste)
Greens (parsley or dill) – 2-3 branches (to taste)
Garlic – 2-3 cloves
Tomato sauce – 3 tbsp
Directions
Peel the onion and cut it into half rings or cubes. Peel the carrots and cut them into large pieces.
Preheat a skillet with vegetable oil. Put onions and carrots in hot oil.
Fry over medium heat, stirring occasionally until the carrots are soft (about 2-3 minutes).

To boil water. Cut the ribs into portions, 1 rib each.

Peel and chop the potatoes.
Add ribs and potatoes to the pan. Mix. Add about 100 ml of boiling water.
Cover the pan with a lid and simmer the potatoes with smoked pork ribs over low heat for 15 minutes, stirring occasionally. You can add boiling water little by little as needed.
Cut the eggplant into large pieces.
Salt the eggplants with coarse salt. Stir and leave for 10 minutes. Rinse with hot water.

Peel the bell peppers and cut them into large pieces.
Peel and chop the garlic with a knife. Mix the tomato sauce with boiling water (100 ml).
Add eggplants and bell peppers to the pan, mix. Simmer pork ribs with potatoes, eggplant, and pepper for 10 minutes.
Add garlic to the pan. Add salt and pepper to taste. Add diluted sauce. Simmer vegetables with smoked ribs in tomato sauce for another 5-7 minutes. Let it brew for 10 minutes.
Stewed vegetables with smoked ribs are ready. Serve with chopped fresh herbs.
Enjoy your meal!
Also Like
Comments for "Stewed Vegetables with Smoked Ribs"