Buckwheat with Smoked Ribs (in a Pan)
by Editorial Staff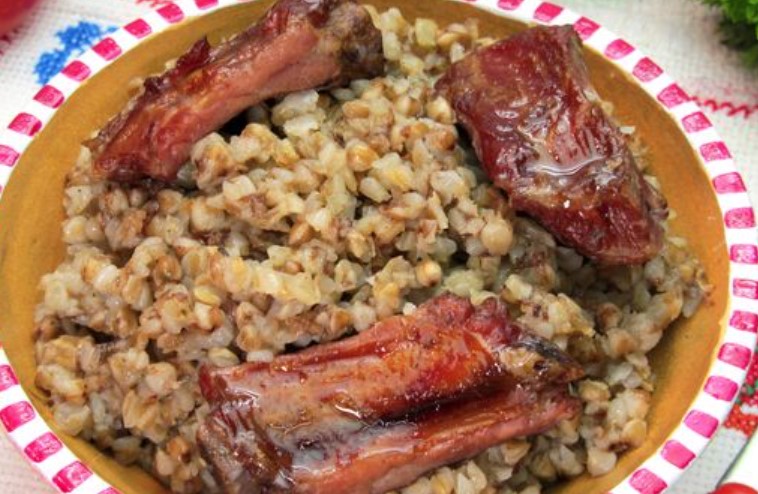 If you like buckwheat with meat, then cook it with smoked pork ribs. It turns out to be an excellent combination – nourishing crumbly buckwheat with a subtle smoked flavor. Dried marjoram will give the dish an original taste. And buckwheat with smoked ribs is prepared quite quickly and easily.
Cook: 1 hour 40 mins
Servings: 6
Ingredients
Buckwheat groats – 200 g
Smoked pork ribs – 270 g
Onions – 150 g (1 pc.)
Dried marjoram – 1-2 teaspoon
Salt to taste
Vegetable oil – 30-45 ml (2-3 tablespoons)
Directions
Cut the ribs along the bone into small pieces.
Peel the onions, wash and cut into small cubes.
In a deep frying pan, heat the vegetable oil and fry the onion for about 5 minutes, until light golden brown.
We spread the ribs to the onion.

Fry everything together for about 2-3 minutes.
Add marjoram.
Stir and fry for another half minute.
Then add buckwheat, well washed under running water.
Fry the contents of the pan for 3-4 minutes.

Then pour in 400-450 ml of water.
Bring to a boil, reduce the heat, cover the pan with a lid and cook buckwheat with ribs over low heat for 15-20 minutes, until the buckwheat completely absorbs the liquid and becomes soft. Add salt to taste 2 minutes before the end of cooking. Turn off the heat and let the dish stand for another 5 minutes.

Buckwheat with smoked ribs is ready.
Enjoy your meal!
Also Like
Comments for "Buckwheat with Smoked Ribs (in a Pan)"