Smoked Fish in a Pan
by Editorial Staff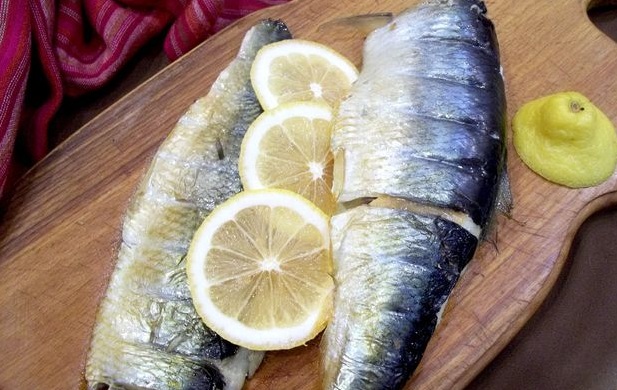 Hot smoked fish, cooked in a city apartment, turns out juicy, fragrant, and with golden skin. The main thing is to know how to properly smoke it yourself at home on the stove. A minimal set of products, kitchen tools, simple manipulations at the stove – and a smoked delicacy is already on your plate.
Cook: 1 hour 40 min.
Servings: 3
Ingredients
Herring (frozen) – 1 pc. (300 g without head and tail)
Rice – 50 g
Lemon zest – 3 teaspoon
Green tea – 25 g
Sugar – 3 tbsp (70 g)
Salt – 4 teaspoon (40 g)
Instead of herring, you can use any other fish fillet. For example, mackerel or salmon.
During the cooking process, you will need a grid slightly larger than the dia of the pan, foil, and cling film.
Directions
Gut the herring, wash, and pat dry with a paper towel. If the fish contains caviar or milk, they can also be smoked.
Prepare salt, sugar (half serving), and lemon zest. You can additionally use fish spices.
Combine these products in one bowl and stir.
Grate the herring's belly with the prepared marinade.

Then wipe off all the fish from the outside on both sides. Do the same with caviar or milk.
Place the herring on a plate or plastic container. Cover with a lid or plastic wrap and refrigerate for 1 hour.
After a while, remove the fish from the refrigerator, rinse off the salt. Dry the fish with a paper towel.
Cut off the head and tail from the carcass and cut it in half lengthwise.

Place aluminum foil on the bottom of a deep skillet. It is also advisable to wrap the edges with foil. This will help trap most of the smoke and heat inside.
Take rice, green tea, and leftover sugar.
Pour food onto the foil and stir. (I read on the Internet that instead of rice, green tea, and sugar, you can use sawdust (alder or apple trees), which are used for a classic smokehouse. maximum. But I have not tried to cook fish like that yet.)
Place the grate on top.

Place the skillet over high heat and watch for a little smoke rising over the skillet.
Place fish pieces on a wire rack.

Place a lid on the fish to keep it snug. Smoke the fish for 20 minutes and do not open (important!). (In the original recipe, it was recommended to cook for 7-8 minutes. But after this time my fish was not ready yet and did not acquire a golden hue. Perhaps the cooking time depends on the heat temperature and the size of the pieces.)
Smoke will be felt during smoking, so turn on the hood. She can handle it perfectly.
Ready-made hot smoked herring, cooked on your own in a pan, acquires a simply extraordinary taste. This is a real holiday for the whole family! Serve hot. Although after cooling it remains no less tasty. Such a fish will suit both mashed potatoes and a glass of beer.
Bon Appetit!
Also Like
Comments for "Smoked Fish in a Pan"