Vinaigrette with Smoked Fish
by Editorial Staff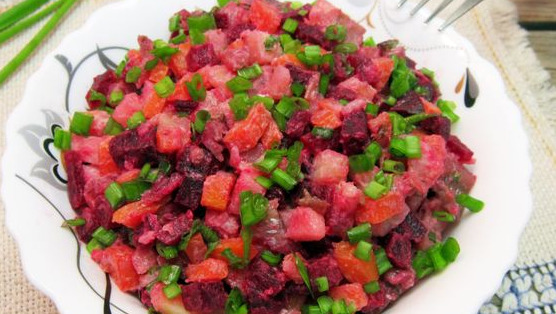 This vinaigrette is only slightly reminiscent of a salad well-known to many. There are no pickles in the composition, and mayonnaise is used instead of vegetable oil. The most interesting component is smoked capelin, which gives the vinaigrette a bright and interesting flavor. The vinaigrette with smoked fish turns out to be delicious and original!
Servings: 5
Ingredients
Smoked capelin (or other smoked fish) – 300 g
Beets – 300 g (1-3 pcs.)
Potatoes – 350 g (3 pcs.)
Carrots – 170 g (2 pcs.)
Green onions (feathers) – 30 g (1 bunch)
Mayonnaise – 2-3 tbsp
Directions
Wash the potatoes and carrots, fill them with water and boil until tender (approximately 20-25 minutes after boiling). Vegetables should not be overcooked. Remove the finished potatoes and carrots from the broth and leave to cool.
Wash the beets, fill with water and boil until tender (1-1.5 hours, depending on the size).
Remove the finished beets from the broth and leave to cool.
We clean the capelin: separate the head, take out the spine, entrails, and remove the skin.
Cut the peeled capelin fillet into small pieces.

Peel potatoes, carrots, and beets and cut into small cubes.
Finely chop the green onion leaves. We leave a little onion to decorate the vinaigrette.
Combine carrots, beets, potatoes, smoked fish, and onions in a bowl.

We fill everything with mayonnaise.
We mix.
Enjoy your meal!
Also Like
Comments for "Vinaigrette with Smoked Fish"