Red Borsch with Meatballs
by Editorial Staff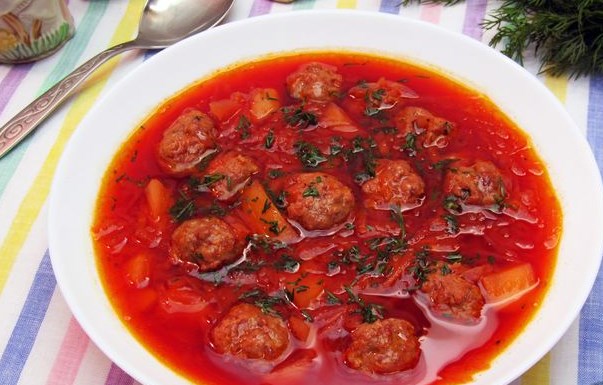 This delicious and satisfying borscht with meatballs is prepared much faster than borscht with meat, but it turns out just as well. So, if you want to cook delicious borscht without spending a lot of time, take note of this recipe.
Servings: 9
Ingredients
Minced pork and beef or pork – 400 g
White cabbage – 250 g
Beets – 200 g
Potatoes – 400 g
Onions – 150 g
Carrots – 100 g
Tomato paste – 70 g
Vegetable oil – 45 ml
Garlic – 2-3 cloves
Vinegar 6% – 10 ml (2 teaspoon)
Ground paprika – 2 teaspoon
Sugar – 15 g
Salt to taste
Bay leaf – to taste
Ground pepper (mix) – to taste
Dill or parsley greens – 15-20 g
Water – 2.2 l
Directions
Peel the onions and cut them into small cubes. Divide the onion in half.
In a bowl, combine the minced meat and half of the chopped onion. Peel the garlic and squeeze it through a press into a bowl of minced meat.
Add salt and mix the minced meat until smooth. We form small meatballs from minced meat.

Peel the potatoes and cut into medium slices. Pour potatoes in a saucepan with water (2.2 l) and cook for 10 minutes.
Chop the cabbage into strips. Then add the cabbage to the pan and cook for another 10 minutes.

Peel the carrots and beets and rub them on a coarse grater.
Fry the second half of the onion in a frying pan heated with vegetable oil for 3-5 minutes, until light golden brown. Then add carrots and beets to the onion. Fry vegetables for another 5-7 minutes, until soft.
Then add sugar, vinegar, tomato paste, and paprika. Pour in 200 ml of water and mix. Cover the pan with a lid, reduce heat and simmer vegetables for 10 minutes.

Add the vegetable fry and bay leaf to a saucepan with cabbage and potatoes. Bring to a boil and salt to taste.
As soon as the borscht boils, add the meatballs. Cook borscht with meatballs for another 15 minutes. Turn off the heat and add the pepper mixture.
Red borsch with meatballs is ready. Finely chop the fresh herbs. Pour borscht into plates, add greens to each portion and serve.
Bon Appetit!
Also Like
Comments for "Red Borsch with Meatballs"