Cold Borsch
by Editorial Staff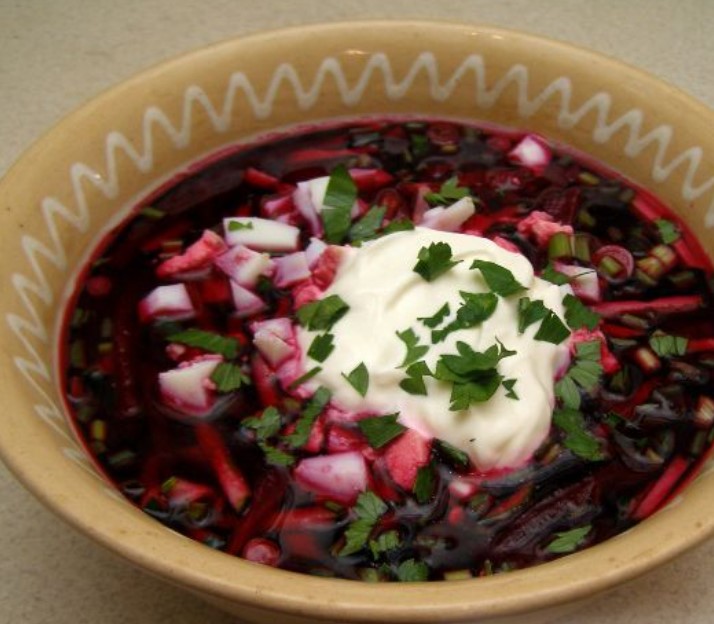 Delicious cold borscht! Recipe for a wonderful first course for a summer lunch.
Serving: 8
Ingredients
Beets – 400-500 g
Carrots – 100-150 g
Cucumbers – 3-4 pcs.
Eggs – 2 pcs.
Green onions – 1 bunch
Dill and parsley greens – 0.5 bunch
Sugar – 1 tbsp
Salt – 1.5-2 teaspoon
Vinegar – 3 tbsp
Sour cream – 0.5 cups
Directions
Prepare food.
The recipe for cold borscht begins with the preparation of beet broth. For this, the beets are peeled and cut into strips.
Put chopped beets in an enamel pot with cold water (1.5 liters), pour in a little vinegar (1 tbsp), put on fire. Bring to a boil, cover with a lid and boil medium-sized beets for 40 minutes with a low boil.
Then the beet broth is cooled to room temperature and filtered through a sieve. The resulting broth in a glass jar or enamel pan is placed in a warm place for souring for 8-10 hours. Sour beet broth is cooled to about 8-10 degrees (in the refrigerator).

To prepare cold borscht, cut the peeled carrots into large pieces, put in a saucepan with water, put on moderate heat and cook until tender (about 15 minutes).
After that, the water is drained, and the carrots are cut into small cubes or strips.
Cucumbers are also cut into strips.
Chives are finely chopped.
Beets and carrots, green onions, fresh cucumbers are placed in a saucepan. Add salt, vinegar (2 tablespoons), sugar.
Pour chilled beetroot broth and mix everything.

Eggs are boiled, peeled and cut into small pieces.
Dill or parsley greens are also finely chopped.
When serving, a finely chopped egg is placed in plates with cold borsch, seasoned with sour cream and sprinkled with chopped herbs. Bon appetit!
Also Like
Comments for "Cold Borsch"