Lean Borsch with Chickpeas
by Editorial Staff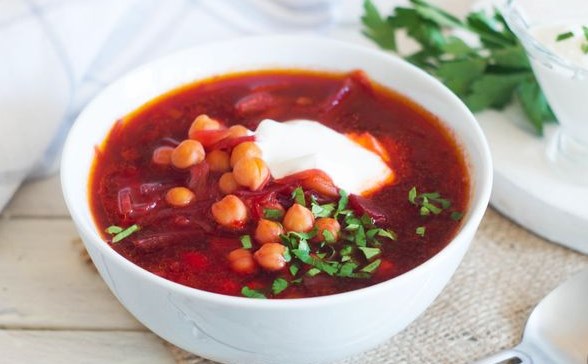 Extremely bright and rich borscht is obtained with the addition of a large number of vegetables, spices, and seasonings! Chickpeas are a wonderful addition to this dish, they add nutritional value and serve as an original ingredient! A hot, hearty lunch is guaranteed! The household will be happy!
Cook: 8 hours 20 mins
Servings: 5
Ingredients
Chickpeas (dry) – 70 g
Potatoes – 290 g
White cabbage – 160 g
Vegetable oil – 2-3 tbsp
Salt – 2 teaspoon
Ground black pepper – on the tip of a knife
Ground paprika – 1/4 teaspoon
Seasoning universal (optional) – 1/2 teaspoon
Sugar (optional) – to taste
Water – 1.2 l
For frying:
Beets (dark) – 290 g
Sweet pepper – 80 g
Tomato – 120 g
Onions – 90 g
Tomato paste – 25 g
Garlic – 1 clove
Ground coriander – 1/4 teaspoon
Bay leaf – 1 pc.
Water – 150-200 ml
For filing:
Fresh parsley – 2-3 sprigs
Sour cream (optional) – to taste
Directions
Soak the chickpeas overnight, rinse, cover with clean water, and cook for 40 minutes, until completely soft. Peel and cut the potatoes into small pieces. Add the chopped potatoes to the chickpea pot and cook for 7-10 minutes.

Peel and cut the onions into small cubes. Heat vegetable oil in a frying pan, add chopped onion, and fry for 2-3 minutes, stirring occasionally.
Peel the beets, cut into thin strips, and add to the pan. Fry for another 5 minutes, stirring occasionally.
Peel the bell peppers from seeds, cut into strips and add to the pan, fry for another 2 minutes. Pour in water. The vegetables should be almost completely covered. Cover and simmer over low heat for 20-30 minutes, until the beets are soft. Add tomato paste to the frying.

Add chopped tomato. Stir and simmer for another 10 minutes. Peel and chop the garlic. Add ground coriander and garlic to the pan and stir.
Chop the cabbage thinly. Cut the tomato into small cubes.
Put chopped cabbage in a saucepan with chickpeas and potatoes and add bay leaves. Bring to a boil and simmer for 15 minutes over low heat.

Add the finished frying to the saucepan, add salt, and all-purpose seasoning as desired. If necessary, you can balance the taste – add a little sugar. Bring the borsch to a boil. Boil for 1-2 minutes and remove from heat.
Lean borsch with chickpeas is ready! You can serve it immediately after cooking. Chop the parsley finely. Pour borscht into portioned bowls, complementing each portion with fresh sour cream and chopped parsley.
Also Like
Comments for "Lean Borsch with Chickpeas"