Borsch with Crucian Carp
by Editorial Staff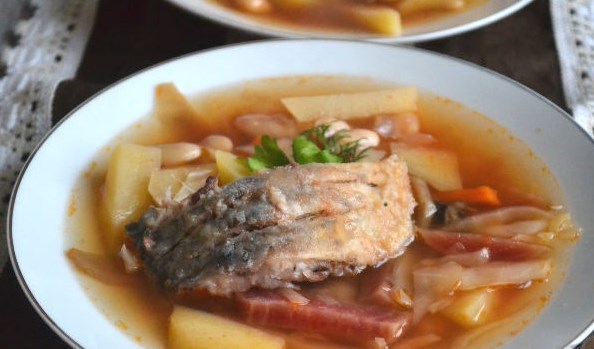 Each housewife has her own unique recipe for making borscht. Most often, borscht is cooked in meat broth. But you can cook borsch with fish, in mushroom broth. To treat loved ones with an unusual first course, I propose a recipe for red borscht with beans, mushrooms, and crucian carp.
Servings: 10
Ingredients
Fresh crucians (large) – 2 pcs. (1 kg)
White beans – 150 g
Frozen boletus mushrooms – 100 g
White cabbage – 300 g
Beets – 0.5 pcs.
Potatoes – 4-5 pcs.
Carrots – 1 pc.
Bulb onions – 1 pc.
Parsley root – 20 g
Vegetable oil – for frying
Vinegar 3% – 2 tbsp
Tomato paste – 4 tbsp
Flour – 100 g
Allspice peas – 3 pcs.
Bay leaf – 2 pcs.
Salt to taste
Ground black pepper – to taste
Greens to taste
Directions
Soak the beans in 250 ml of water and leave overnight.
Preparing carp. My fish has already been peeled. If you don't, then we clean the fish from scales and entrails, wash it thoroughly. Cut off heads, tails, fins.
We carbonate the fish (this is a technique for processing fish with many small bones): we make cuts on the body of crucians at a distance of no more than 5 mm. Thus, after frying the fish, small bones will not be felt.

Salt the fish to taste and roll in flour (leave 2 tablespoons of flour aside). In a pan with well-heated vegetable oil, fry the fish for 7-10 minutes on each side.

Drain the water from the beans (if it remains), put the beans in a saucepan, pour 1 liter of water and cook over medium heat for 1 hour. Strain the finished beans (put them on a sieve or colander).
Pour frozen boletus with water and leave for one to two hours. Then we drain the water, put the mushrooms in a saucepan, pour 0.5 liters of water and cook the mushrooms over moderate heat for 30-40 minutes. Then we filter the mushrooms with a colander. We leave the mushroom broth aside.

Wash the potatoes, peel, and cut into small cubes. Wash the carrots, peel, and cut into small cubes.
Wash the beets, peel, and cut into small cubes. Cut the cabbage into medium strips.
Peel the onion and cut it into small cubes. Peel and chop the parsley root.
Pour the remaining flour into the pan, add the onion and parsley root and sauté for 3 minutes.
In a clean frying pan with heated vegetable oil, fry the beets with carrots for 4 minutes. Then pour the vinegar into the pan and put the tomato paste. Simmer the beets with carrots and tomatoes for a couple of minutes.

Pour about 2 liters of water into a saucepan and add strained mushroom broth. Salt and pepper to taste. Add potatoes, bay leaves, and peppercorns.
Cook potatoes for 10-15 minutes. Then put the fried beets with carrots in a saucepan.
Then add the mushrooms. Add onion with parsley root. We put the cabbage.
Salt borscht with mushrooms and vegetables to taste and cook until all vegetables are cooked. In the end, put the boiled beans.
Cut the fried carp into portions.
In the end, add pieces of fish to the borsch with beans and mushrooms, boil. We leave the borscht with fish for 15 minutes to infuse. Sprinkle the borsch with chopped herbs if desired. Red borsch with crucian carp is ready. Bon Appetit!
Also Like
Comments for "Borsch with Crucian Carp"