Jellied Mirror Carp
by Editorial Staff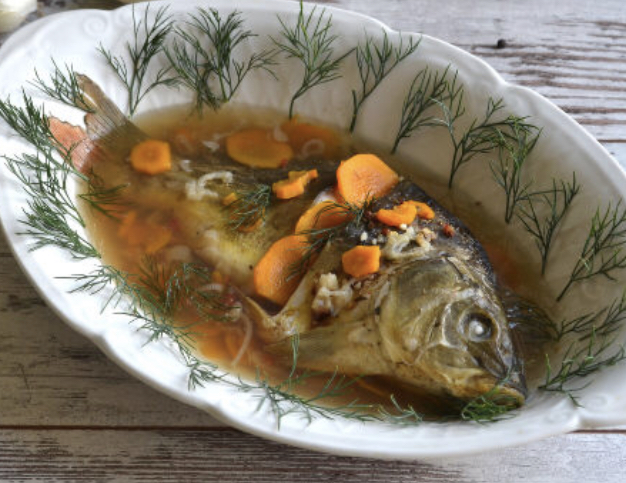 We will cook mirror carp in the form of aspic or jellied meat cooked with carrots and onions. An excellent dish for fish lovers and for those who follow their figure, because the fish turns out not only dietary but also very tasty and juicy. Fragrant aspic fish is a wonderful dish for both the everyday menu and the festive table.
Ingredients
Mirror carp – 800 g
Small onions – 3-4 pcs.
Carrots – 1 pc.
Seasoning for fish – 3 teaspoon.
Bay leaf – 2 pcs.
Salt to taste
Pepper to taste
Dill greens – 1 sprig
Directions
We carefully clean the carcass of the fish from the entrails and remove the gills on the sides of the head. We wash it under running water, remove the black film inside the carp. We cut the fish in half. We leave the fins of the fish, with their help, the jelly necessary for jellied fish is formed.

Chop the onion into thin rings. You can cut figures or flowers from carrots, or you can simply cut them into circles.
First, put the carrots on the bottom of the pan.
Then finely chopped onion slices.
We put two parts of the mirror carp on the vegetables so that they are side by side.
Salt and pepper the parts of the fish and add dry seasoning to the fish.
Pour water into the pan. The water should not completely cover the fish, the highest part of the fish should be left without water.
We put the pan on the stove. When the water boils, remove the resulting foam from the fish.
Reduce heat (make the smallest heat) and cook fish for 1 hour.

Transfer the finished fish to a plate and fill it with the resulting jelly broth. Decorate the dish with dill and leave the fish in a cold place until it cools completely.
Enjoy your meal!
Also Like
Comments for "Jellied Mirror Carp"