Transparent Mirror Glaze
by Editorial Staff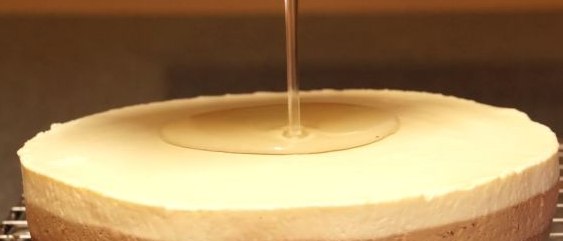 Transparent mirror glaze is used to cover cakes and pastries. It gives beauty and shine to confectionery. We offer you a very simple, classic recipe for transparent mirror glaze.
Ingredients
Sugar – 200 g
Water – 200 g
Gelatin – 4 g
Instructions
Soak 4 grams of gelatin following the manufacturer's instructions on the package. (You can use sheet gelatin or powdered gel, it doesn't matter.)
Pour 200 grams of sugar into a saucepan, add 200 milliliters of water. Put on fire, stir until sugar is completely dissolved, and bring to a boil.
Cooldown to a temperature of approximately 65 degrees Celsius.
Add the soaked gelatin, mix until the gelatin is completely dissolved.
Cooldown to a temperature of approximately 20 degrees Celsius.

The clear mirror glaze is ready. Cakes, pastries, and other pastries are covered with transparent mirror glaze.
After hardening, the mirror glaze gives the dessert a particularly elegant look.
Also Like
Comments for "Transparent Mirror Glaze"