Carp Ukha
by Editorial Staff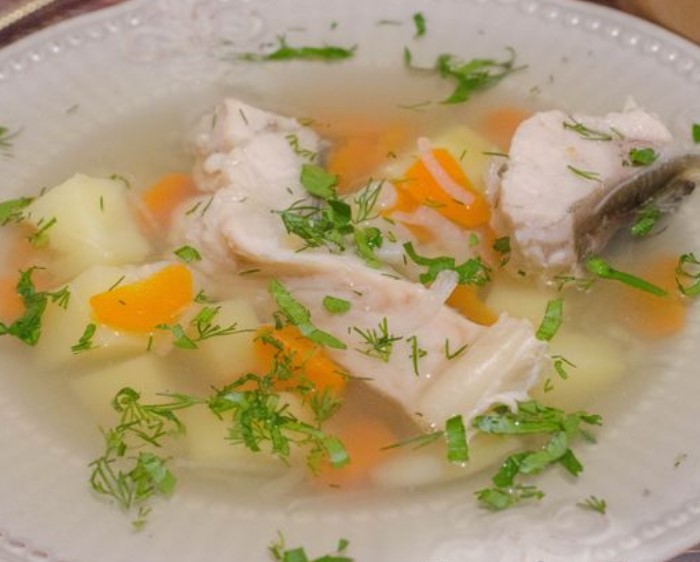 Carp fish soup is a delicious and aromatic first dish that will surely immerse you in the atmosphere of a warm summer holiday on the river bank. The recipe is very successful, the ear is rich and satisfying. Try to cook!
Cook: 1 hour 30 mins
Servings: 6
Ingredients
Fresh carp – 1.6 kg
Potatoes – 500 g (3 pcs.)
Carrots – 130 g (1 pc.)
Onions – 150 g (1-2 pcs.)
Garlic – 2-3 cloves
Bay leaf – 5 pcs.
Peppercorns (mix: black, white, red) – 15-20 pcs.
Vodka – 40-50 ml
Fresh dill – 3-5 branches
Fresh parsley – 3-5 branches
Salt to taste
Directions
We prepare products.

We clean the fish of scales and entrails, remove the gills. Separate the head and tail. Rinse thoroughly.
We put the head and tail of the fish in an enamel saucepan (or other non-oxidizable dish) and pour 2 liters of water. We put on heating.
Bring to a boil and carefully remove the resulting foam. Salt. Cook over low heat for 25 minutes.
At this time, we clean the vegetables and rinse the herbs.
Cut the potatoes into medium cubes.
Cut the onion into quarters.
Cut the carrots into semicircles.
After a while, we take out the head and tail of the fish from the pan, they are no longer needed. Strain the broth and return to the pan.
Put chopped vegetables into the broth. Cook for 5 minutes.
Cut the fish (the rest) into small pieces. Rinse thoroughly.
Put the chopped fish in a saucepan and cook for 25 minutes over low heat.
Pour in vodka 5 minutes before readiness and add salt if necessary.

Then turn off the heating, cover the pan with a lid and let the ear brew for 15 minutes.
Let's prepare a lek for serving. To do this, we pass the garlic through a press or rub it on a fine grater and put it in a deep bowl.
Pour 1 ladle of hot broth. We also let it brew.
Grind parsley and dill.
Carp fish soup is ready. Serve with herbs and garlic lek.
Enjoy your meal!
Also Like
Comments for "Carp Ukha"