Ukha on Cucumber Pickle
by Editorial Staff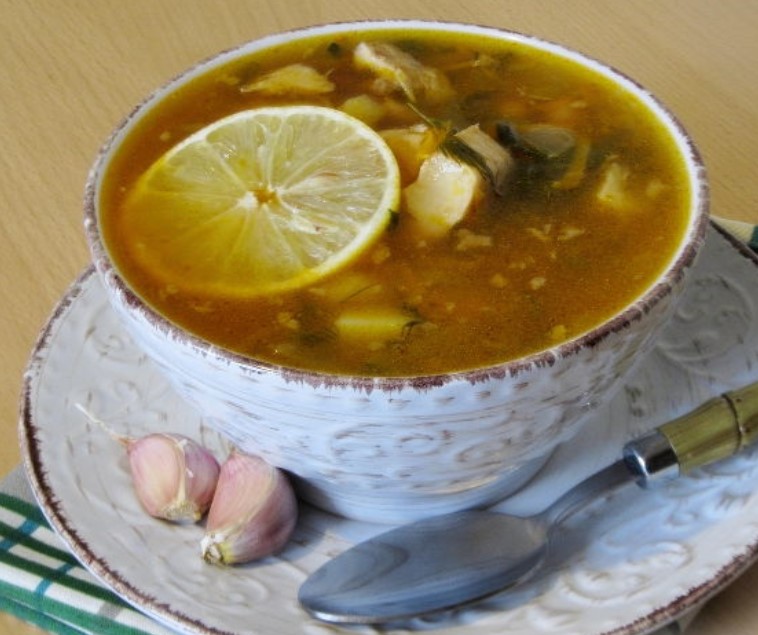 Ukha on cucumber brine is obtained with a special taste. This time I was preparing a fish soup from red perch, with the addition of beans and pickles. The recipe is simple and affordable, so be sure to write it down in your cookbook.
Ingredients
Red perch – 1 kg
Potatoes – about 250 g
Carrots – 2 pcs.
Pickled cucumbers – 3 pcs.
Cucumber pickle – 100-200 g (to taste)
Bulb onions – 2 pcs.
Boiled (or canned) beans – 100 g
Celery – 200 g
Parsley (and / or parsnip) root – 1 pc.
Garlic – 2 cloves
Tomato paste (optional) – 1 tbsp
Bay leaf – 2-3 pcs.
Hot pepper (optional) – 1/2 pod
Vegetable oil (for frying)
Fresh dill – 1/2 bunch
Parsley – 1/2 bunch
Salt
Ground black pepper
Lemon – 1/2 pc.
Directions
Prepare the fish soup ingredients with cucumber brine.

Peel the perch and put it in a saucepan with a volume of at least 4 liters. Pour 2.5 liters of clean water, bring to a boil, then reduce heat, cover the pan and cook the fish for about 25 minutes, if you, like me, have whole carcasses. And if the fish is cut into pieces, then 15 minutes will be enough (You do not need to overcook the fish, the fillet should be tender, it should easily come off the bone, but not crumble into pieces).
While the fish is cooking, prepare the vegetables for the broth. Peel and cut one carrot, celery root, cockerel and / or parsnip into several pieces. Peel one onion and make several deep cuts in it.
Remove the fish from the pan, let cool. Put chopped vegetables and bay leaves in the fish broth, cook under a closed lid for about 25 minutes after boiling.
Peel and dice another onion.
Peel and grate the second carrot.
Cut the pickled cucumbers into small cubes.
In a small frying pan for 2-3 tablespoon. tablespoons of vegetable oil, lightly fry the onions, carrots and garlic squeezed through a press (5-6 minutes, no more).
Then add the cucumbers and about 100 g of brine.
Simmer for 5 minutes, stirring occasionally.

Chop the greens finely. If you use hot peppers, then chop it finely too.
By this time the fish has cooled down. Disassemble it by removing all bones and breaking the pulp into small pieces.
Peel the potatoes and cut into 1 x 1 cm cubes.
Remove vegetables and bay leaves from the stockpot, discard them. And strain the broth through a sieve. You should get 2 liters of broth. (If there is more broth, then you need to boil it by pouring it back into the pan. If less, then add clean water to the required volume.)
Pour the broth back into the pot in which it was cooked (you can rinse the pot beforehand to surely get rid of small bones and scales that can linger on the sides of the pot). Bring the broth to a boil, add the potatoes, add 1 teaspoon of salt, cook the potatoes, covered, until tender, about 10 minutes.
Add frying, fish, herbs, beans, hot peppers, tomato paste, and black pepper to the pan. Cook the perch soup for another 2-3 minutes. Then taste, add more brine and / or lemon juice to the fish soup if necessary. Boil the fish soup for another minute in cucumber pickle. (The amount of brine and lemon juice is optional, because the tastes are different, and so are the brines.)
Red perch soup on cucumber brine, serve well with lemon wedges and garlic (optional).
Bon appetit!
Also Like
Comments for "Ukha on Cucumber Pickle"