Mackerel Ukha
by Editorial Staff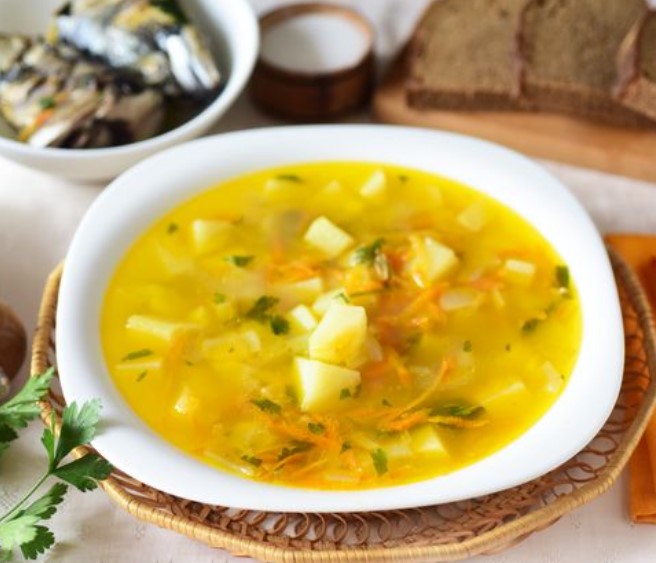 Very tasty fish soup can be made from the heads of mackerel: the broth turns out to be rich, and the soup itself is hearty and nutritious. Great option for a budget first course.
Cook: 50 mins
Servings: 4
Ingredients
Mackerel (heads) – 2 pcs.
Potatoes – 4 pcs. (500 g)
Bulb onions – 1 pc. (75 g)
Carrots – 1 pc. (80 g)
Fresh parsley – 3-4 sprigs
Lemon (juice) – 10 ml
Salt – 1 pinch
Ground black pepper – 1 pinch
Vegetable oil – 3-4 tbsp
Water – 1 l
Directions
Let's prepare the products.

Put the fish heads in a saucepan, add water and bring to a boil.
Cut the peeled potatoes into medium-sized cubes.
Put the potatoes in a saucepan over the fish heads 15 minutes after boiling.
Finely chop the peeled onion. Grate peeled carrots on a coarse grater.
Heat vegetable oil in a frying pan and fry chopped carrots and onions over medium heat until soft, about 5-7 minutes, stirring occasionally.
Put the frying in a saucepan 10 minutes after the potatoes. Add salt and black pepper. Cook for another 10 minutes.
Then finely chop the parsley and add to the saucepan along with lemon juice. Cook for another 5 minutes. Then the pot with the finished ear can be removed from the stove.Pour the prepared fish soup into portioned plates and can be served to the table.
Enjoy your meal!
Also Like
Comments for "Mackerel Ukha"