Pickled Cucumbers "Bloody Mary"
by Editorial Staff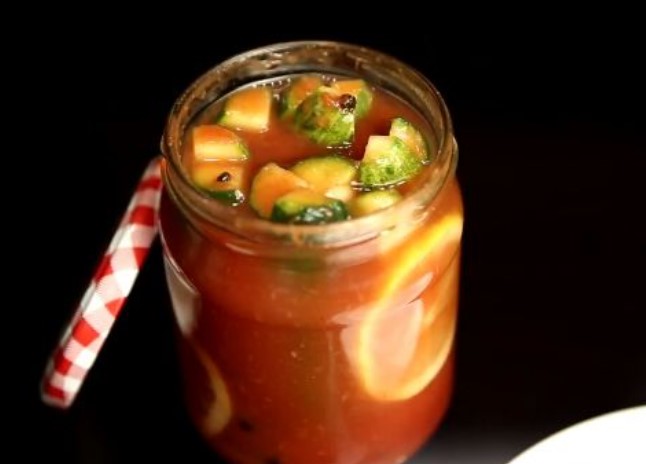 A delicious pickled cucumber recipe based on the famous Bloody Mary cocktail.
Ingredients
(for 0.5 liter can)
Small cucumbers – 4-5 pcs.
Lemon – 3 circles
Garlic – 1 clove
Tomato juice – 3/4 cup
Lemon juice – 2 tbsp
Hot sauce – 2-4 drops
Vodka – 2 tbsp
Grated horseradish – 2 teaspoon.
Black peppercorns – 1/2 teaspoon.
Salt – 1/2 teaspoon.
Directions
Cut the cucumbers lengthwise into 4 pieces.
Place the cucumbers vertically in the jar
Cut the lemon into thin slices.
Add 3 slices of lemon to each jar.

Cut a clove of garlic lengthwise into 3-4 pieces. Paste between cucumber pieces.
Mix in a small saucepan tomato juice, lemon juice, horseradish, salt, pepper, hot sauce. Stir and bring to a boil.
Remove from heat and add vodka.
Pour the prepared marinade into a jar of cucumbers.
Close the lid and keep the cucumbers in a tomato marinade for a day in a cool place.

Pickled cucumbers are ready.
Bon Appetit!
Also Like
Comments for "Pickled Cucumbers "Bloody Mary""