Quick Borsch
by Editorial Staff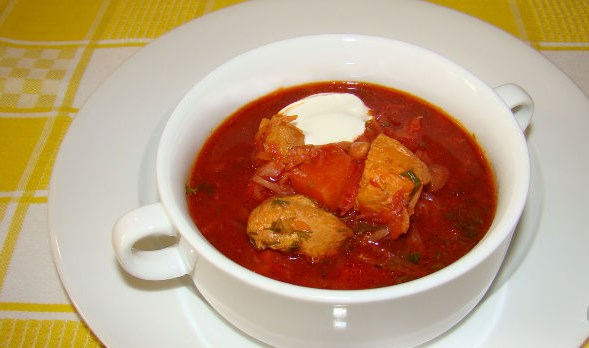 The secret of making quick borscht is in the rational technology of the recipe, or rather in the preparation of vegetables for borscht. In addition, chicken borscht cooks faster …
Cook: 1 hour
Servings: 10
Ingredients
Chicken fillet – 2 pcs.
Medium beets – 2 pcs.
Cabbage – 400-500 g
Potatoes – 400-500 g
Canned beans – 1 can (400 g)
Medium onion – 1 pc.
Garlic – 1 clove
Medium carrots – 1 pc.
Tomato paste – 2 tbsp
Vegetable oil – 80 ml
Sugar – 1 teaspoon
Salt – 1 tbsp without slide
Ground pepper – 0.5 teaspoon.
Bay leaf – 2 pcs.
Chopped dill greens – 2 tbsp
Chopped parsley – 2 tbsp
Directions
Wash and peel all vegetables except beets. Chop the garlic, chop the onion into small cubes. Grate the carrots. Pour vegetable oil into a cauldron, heat. Lightly fry the garlic, onion, carrot.

Peel the beets just before frying. Grate the beets on a coarse grater and send them to fry in a cauldron.
Cut the chicken fillet into pieces, add to vegetables, simmer for a couple of minutes. Add salt, sugar, pepper, tomato paste, stir.
Cut the potatoes into cubes. Add potatoes and canned beans to the cauldron.
Pour boiling water over the top, leaving room for the cabbage. Cook the borscht until the potatoes are cooked, about 20 minutes.
While the borscht is being cooked, chop the cabbage. Lightly salt the cabbage and rub it with your hands to soften the cabbage.
When the potatoes are boiled, add cabbage to the borscht, cover the cauldron with a lid and cook the quick borscht for another 3 minutes.

Cover with chopped greens, add the bay leaf. Turn off the heat and leave the borscht for 15 minutes. Quick borscht is ready.
You can eat borsch with bacon, garlic, onions, donuts with garlic, sour cream, and you can even pour a glass of vodka. In general, everyone will pick up what they like.
Bon Appetit!
Also Like
Comments for "Quick Borsch"