Borsch "Traditional"
by Editorial Staff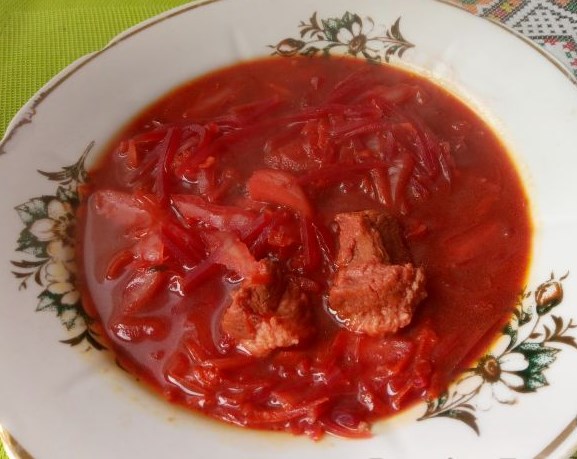 Cooking hearty, rich red borscht in meat broth.
Cook: 3 hours 20 mins
Servings: 6
Ingredients
Beef – 300 g
White cabbage – 500 g
Beets – 1-2 pcs.
Potatoes – 3-4 pcs.
Carrots – 2 pcs.
Bulb onions – 1 pc.
Tomato paste – 2 tbsp
Vegetable oil – 4 tbsp
Bay leaf – 1-2 pcs.
Black peppercorns – 2-3 pcs.
Salt – 2-3 teaspoon (to taste)
The citric acid (optional) – on the tip of a knife
Garlic to taste
Greens to taste
Sour cream (for serving) – to taste
Directions
Pour the meat in a saucepan with water (1.5-2 l), put on fire. When the water boils, gently remove the flakes and simmer for about 2 hours.

Peel the beets, cut into strips. Heat 2 tablespoons in a skillet. of vegetable oil, lay out the beets and lightly fry (5 minutes), and then pour a small amount of broth (0.5 cups) and simmer for about 20-25 minutes, until soft.

Peel, wash, and cut potatoes into small cubes or large strips. Cut the cabbage into large strips.
When the meat is ready, add cabbage to the broth. (The meat can be removed from the broth, separated from the bones, chopped, and added to the borsch at the end of cooking.)
Peel and wash onions and carrots. Finely chop the onion, grate the carrots. Heat 2 tablespoons in a skillet. spoons of oil. Add onions and carrots and sauté, stirring occasionally, over medium heat for 5 minutes until golden brown.

Add potatoes and fry to the broth with cabbage. When the broth boils again, add salt and pepper. Next, cook over low heat for 15-20 minutes.

After 15-20 minutes, add the stewed beets (and tomato paste, if any) to the borscht. Cook the borscht for another 5-7 minutes. To keep the beets red, you can add a pinch of citric acid to the borscht. It will also improve the taste of the borscht. Add bay leaves 3-5 minutes before cooking ends. And after removing from the heat – the garlic and chopped greens were passed through a press.
Pour borsch into bowls, add pieces of meat if desired. Serve borscht with sour cream.
Enjoy your meal!
Also Like
Comments for "Borsch "Traditional""