Red Borsch with Chicken Meatballs
by Editorial Staff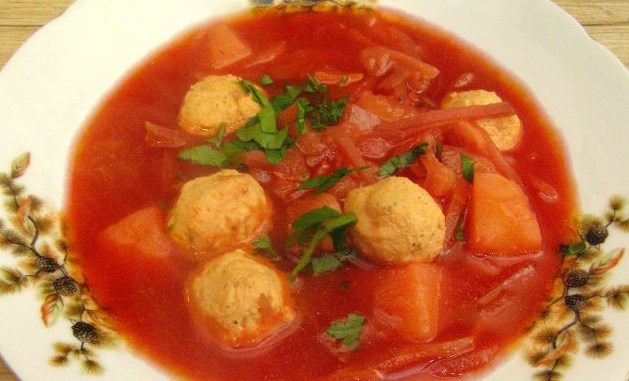 One quick way to make a bright, flavorful red borscht with chicken meatballs.
Ingredients
Beets – 200 g
Carrots – 100 g
Onions – 100 g
Potatoes – 200 g
Cabbage – 200 g
Water – 2 l
Tomato paste – 2 tbsp
Vegetable oil – 1 tbsp
Salt – 1-2 teaspoon
Bay leaf – 1-2 pcs.
Parsley – 0.5 bunch
For the meatballs:
Minced chicken fillet – 300 g
Egg (small) – 1 pc.
Garlic – 2 cloves
Salt – 0.25 teaspoon
Ground black pepper – 0.25 teaspoon
Directions
Peel the onion and chop finely. Heat 1 tablespoon in a frying pan. a spoonful of vegetable oil. Fry the onions over medium heat, stirring occasionally, until golden brown (10 minutes).

Peel, wash, chop carrots. Peel, wash, chop the beets.
Pour in water and bring it to a boil. Arrange onions, beets, and carrots. Cook at a medium boil for 10 minutes.

Peel the potatoes, wash, cut into cubes. Coarsely chop the cabbage.
Put potatoes in boiling water. And immediately put the cabbage.
Stir, add the bay leaf. Salt. Cover and cook for 15 minutes.
Now we are preparing the meatballs. To do this, mix the minced chicken fillet, egg, salt, and pepper. Squeeze the garlic into the minced meat. Mix. Form into walnut-sized balls.
Add tomato paste to borsch, mix.
Layout the meatballs, gently stir the borscht so that the meatballs do not fall apart. Cook red borscht with meatballs for another 10 minutes. Chop the herbs.

When serving red borsch with meatballs sprinkle with herbs. Bon Appetit!
Also Like
Comments for "Red Borsch with Chicken Meatballs"