Ukrainian Kulesh
by Editorial Staff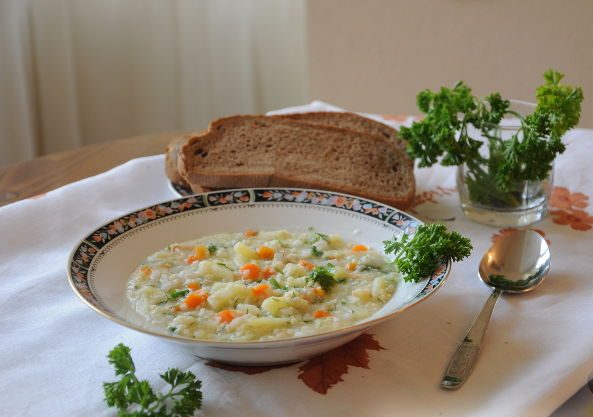 Kulesh is an ancient common dish that combines the first and second courses and looks like a thick soup made from cereals and vegetables with a lard dressing. Kulesh was cooked over a fire, and the recipe for kulesh depended mainly on the availability of products.
Cook: 40 minutes
Servings: 8
Ingredients
Potatoes – 500 g
Millet – 100 g
Lard – 150 g
Onions – 130 – 150 g
Carrots – 90-120 g
Parsley root – 50 g
Celery root – 50 g
Water – 1.5-2 l
Parsley – 4 sprigs
Dill greens – 4 branches
Bay leaf – 2 pcs.
Salt – 1-1.5 teaspoon.
Directions
Prepare food for kulesh
Put a saucepan with 2 liters of water on the fire.
Kulesh is closer to the category of puree soup, not porridge, so do not spare liquids. When the water boils, salt it. For a start, you can put 1 teaspoon of salt, you can finally "straighten it with salt" during or at the end of cooking.
While the water is boiling, prepare vegetables and millet.
Millet grains can be contaminated, which can seriously affect the taste of the dish in the future.
Therefore, it is advisable to rinse millet in running water. Pour cereals into a saucepan and fill with water. Drain. Do this 5-7 times until the water becomes clear. The last rinse can be done with hot boiled water, which will "steam" each grain.
Wash the carrots, peel them, cut into 0.5-1 cm cubes. Wash the potatoes, peel, and cut them into cubes.
Wash the parsley and celery root, peel, and then finely chop. For 2 liters of kulesh, 1 root of small parsley (about 50 g) and the same amount of aromatic root celery (that is, also 50 g) will be enough. Celery strongly interrupts the taste, so you should not cut the whole root and add it to the kulesh.
Dip coarsely chopped carrots and other roots into boiling salted water and cook until half cooked (7-10 minutes). Then add the potatoes, cut into cubes.
After another 5-6 minutes – millet. Cook the kulesh with a low boil, without closing the lid, for 15-20 minutes.

For filling the kulesha, cut the bacon into cubes about one cubic centimeter in size.
Lightly fry the bacon with finely chopped onions. To do this, heat the pan.
You can put both bacon and onion in a pan at the same time, but it is better to first let the bacon "melt" until transparent, and then add the onion. Fry over medium heat (or while stirring over high heat) until the onions are golden brown. The process will take 10-15 minutes. If the bacon is cut into smaller cubes – faster. In addition to lard, you can also use smoked sausage for an appetizing haze aroma.
Wash, dry, and finely chop the dill and parsley. About 4 branches.
When the groats are almost ready, add the lard and onion dressing, bay leaf, herbs and cook until tender. You need to bring the kulesh on minimal heat, under the lid, on average 5-10 minutes.
Enjoy your meal!
Also Like
Comments for "Ukrainian Kulesh"