Ceviche with Tuna
by Editorial Staff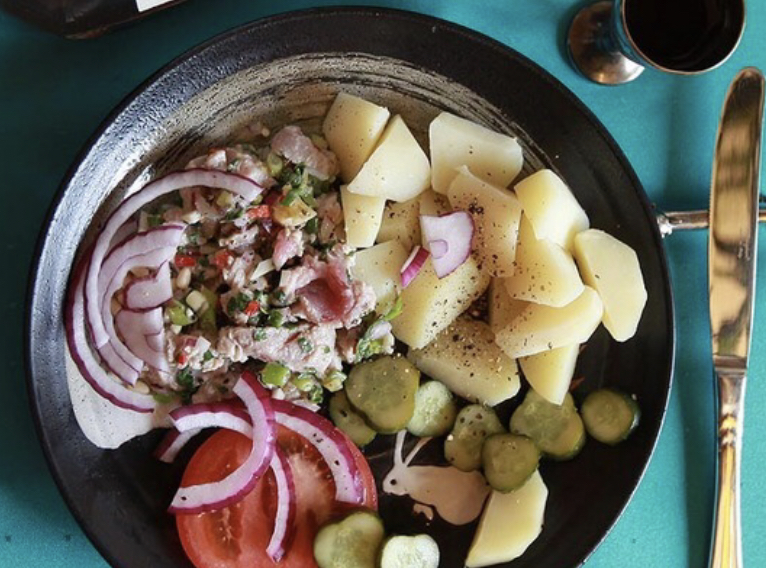 A wonderful spicy snack. Why tuna ?! In my opinion, this Mexican salad "opens up" very beautifully. Delicate, firm, and juicy. I did it with salmon – also good, but with tuna – just delicious. This salad with vodka is especially good – serve with boiled potatoes, and with beer – serve with Mexican nachos chips. Enjoy your meal!
Ingredients
Tuna (deep frozen) – 500 g
Lime (pulp of one lime, juice from all three) – 3 pcs
Orange (chopped pulp) – 0.5 pcs
Cayenne pepper (1-2 large semi-hot peppers, depending on how spicy the salad you want to get. You can reduce the spiciness by removing the grains first)
Red onion (if the onion is not evil, you can have a whole onion) – 0.5 pcs
Green onion – 1 bunch.
Parsley – 1 bunch.
Garlic (finely chopped) – 2 dollars
Salt to taste
Black pepper (ground) – to taste
Directions
Defrost the tuna fillet, pour over the juice of one lime, salt and refrigerate for an hour.
The tuna will turn white around the edges – that's okay! / You can already eat it – it turns out a very tasty fish /
Further: cut the fish into small pieces, removing the hard white "fiber" / sometimes comes across /.
Finely chop everything else / including the pulp of half an orange and one lime, mix with the fish, salt, pepper, pour over the lime juice, and let it brew for about twenty minutes.
For vodka or white wine – serve with boiled potatoes. With beer – with Mexican Nachos chips.
Enjoy your meal!
Also Like
Comments for "Ceviche with Tuna"