Capelin Ceviche
by Editorial Staff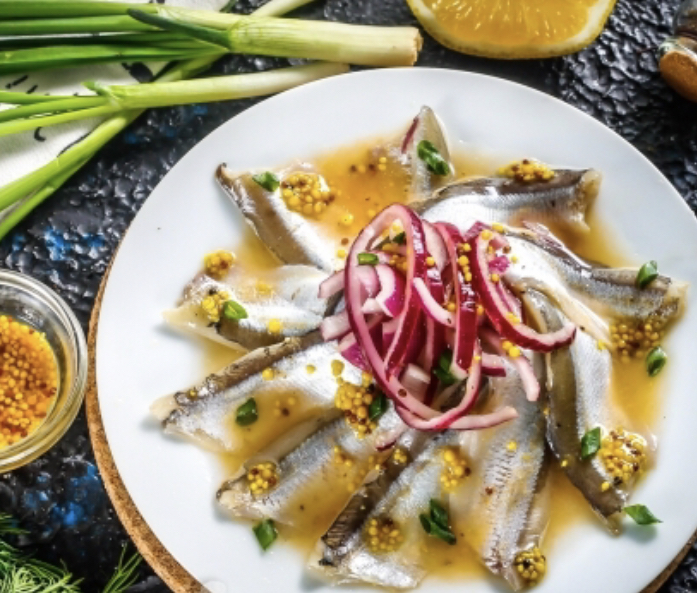 An incredibly tasty and quick dish made from capelin – ceviche. You will be amazed at the variety of new flavors that open up in this dish!
Ingredients
Capelin – 250 g
Orange -1 pc.
Lemon – 0.5 pcs.
Mustard beans – 2 teaspoon.
Salt – 0.5 teaspoon
Ground black pepper – 3 pinches
Red onion – 1 pc.
Greens – for serving
Directions
Squeeze the juice from an orange and a quarter of a lemon, mix them in a deep bowl with salt, ground black pepper, and 1 teaspoon. grain mustard (ready-made – store). Leave the remaining mustard to garnish when serving. Taste the marinade – if it's sweet, squeeze another quarter of the lemon.
Peel the capelin from the entrails, tearing off the head and removing the ridge, fins, tails. Only the fillet should remain. Rinse the carcasses and carefully remove the black hymen inside each one! This is a must, as it is very bitter.
Peel and rinse the red onion, cut into half rings and add to the marinade.
Put the fish pulp there, mix everything carefully and leave for 15-20 minutes, stirring every 5 minutes, so that the pulp is evenly marinated.
Place the fish slices on an overlapping plate in a circle, top with the red onion and lightly drizzle with the marinade. Garnish with fresh herbs and leftover mustard. The capelin ceviche is ready. Serve as a separate dish with a glass of white wine.
Enjoy your meal!
Also Like
Comments for "Capelin Ceviche"