Ceviche in Israeli
by Editorial Staff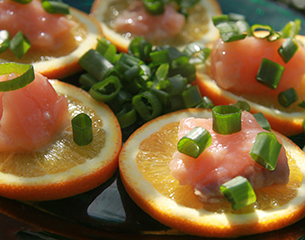 The recipe for Jewish ceviche – half pickled, half salted salmon in orange and lemon juice – mixes several different culinary traditions.
Ingredients
1 kg salmon
1 tablespoon. a spoonful of sea salt (large!)
1 tablespoon. a spoonful of sugar
juice of 1 orange mixed with the juice of ¼ lemon
Directions
Remove the bones carefully and cut the fish into small pieces. Fold into the container.
Add salt and sugar and mix well. Squeeze orange and lemon juice, mix and pour over fish. Leave in the refrigerator for a few hours.
Salmon prepared in this way can be served separately – as an alternative to salted fish, and as part of various salads and sandwiches.
Enjoy your meal!
Also Like
Comments for "Ceviche in Israeli"