Ceviche with Tuna
by Editorial Staff
Ceviche is a traditional fish dish prepared in many Latin American countries. But Peru is rightfully considered the birthplace of ceviche. One of the must-have ingredients for making ceviche is tomato paste.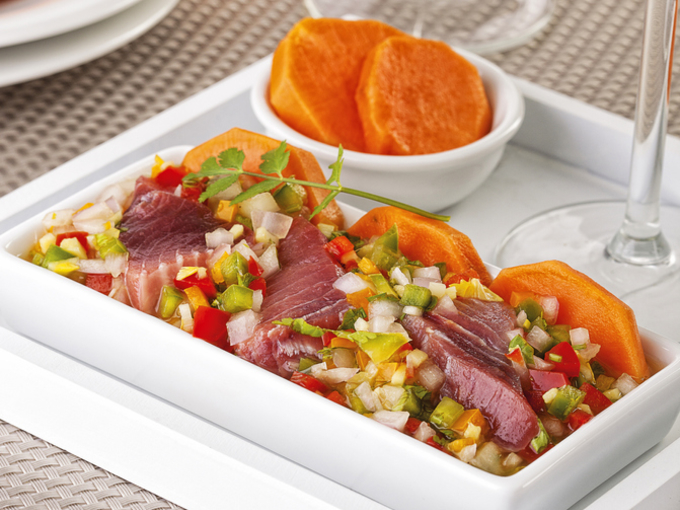 Ingredients
Poblano chili pepper – 2 pcs.
Physalis – 15 pcs.
Lemon juice – 1/4 cup
Honey – 1 teaspoon
Orange juice – 1/2 cup
Salt to taste
Pepper to taste
Fresh tuna fillet – 400 gr.
Mango – 1.5 cups
Onions – 1/2 cup
Cilantro – 1/2 teaspoon
Directions
Cut the chili into small cubes.
Physalis cut in half, or into 4 parts.
Grind chili and physalis in a blender, after adding water to them.
Pass the whipped mixture through a sieve into a glass container.
In a separate bowl, combine lemon juice, honey, orange juice, salt, and pepper.
Combine the resulting mixture with grated chili and physalis.
Peel the fish and cut it into small cubes. Add finely chopped mango, onion, cooked sauce, and cilantro.
Place the ceviche in a sealed container and refrigerate for 1 hour. Stir the dish occasionally.
Enjoy your meal!
Also Like
Comments for "Ceviche with Tuna"