Salmon Ceviche
by Editorial Staff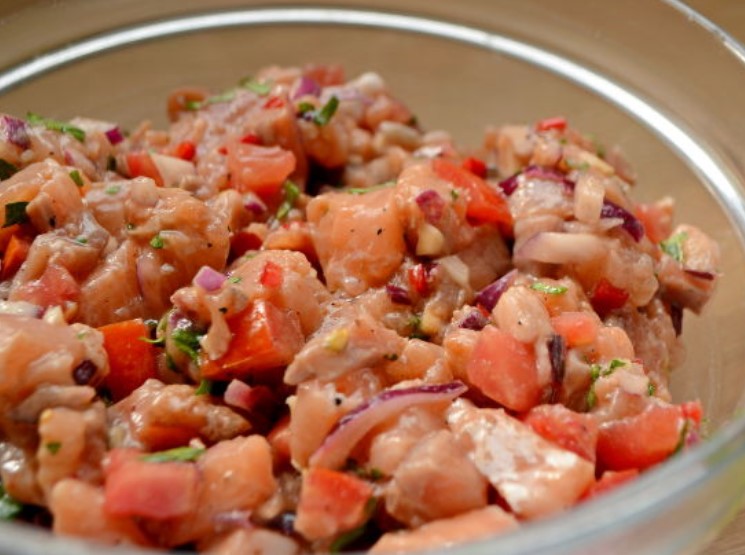 Ceviche is a raw fish snack common in Latin American countries. Many cuisines adapt this dish to their national traditions. Salmon ceviche marinated in lime juice acquires a Mexican flavor thanks to cumin, cilantro and red pepper.
Cook: 40 mins
Servings: 5
Ingredients
Fillet of salmon or fresh salmon – 300 g
Lime – 1/2 pc.
Tomato – 1 pc.
Garlic – 1 clove
Red onion (Crimean) – 1/2 pc.
Fresh cilantro – 2 sprigs
Hot chili peppers – to taste
Balsamic vinegar – 1/2 teaspoon.
Ground cumin – 1/2 teaspoon.
Sea salt – 1 teaspoon.
Ground black pepper – on the tip of a knife
Olive oil – 1/2 tbsp
Directions
Prepare ceviche food. There are not many of them, so everything will work out quickly and without much effort. To prepare ceviche, take fresh fish, not thawed, and from trusted sellers, because the product will not be heat treated!

Free the red fish from bones and skin and cut the fillets into cubes of about 1×1 cm with a sharp knife.
Add salt, black pepper and cumin to the fish, mix.
Cut the lime into halves, we need the juice of half the lime. Chop the red onion into small cubes. Cut the cilantro as finely as possible. Chop the garlic as well.
Cut the red pepper into small cubes, freeing from the seeds. I used 1/3 of the pod, but the pungency of the dish is individual, you can add more or less to taste.
Cut the tomato into small cubes.
Combine all the ingredients, pour in the balsamic and olive oil, mix and leave the ceviche to brew for 20-30 minutes.
After a while, place the appetizer on the lettuce with the help of the cooking ring and serve the salmon ceviche to the table. It is very tasty to eat ceviche with black rye bread.
Bon Appetit!
Also Like
Comments for "Salmon Ceviche"