Salmon Ceviche with Avocado
by Editorial Staff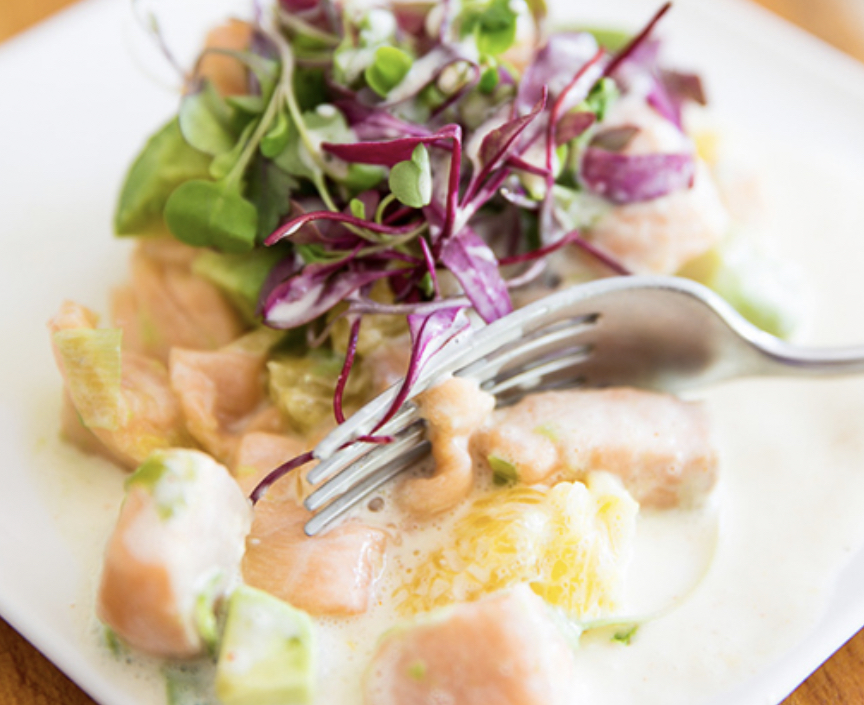 A traditional Peruvian dish, ceviche is freshly chopped fish of various varieties marinated in lime juice. Due to the citric acid content in lime juice, the proteins contained in the fish are denatured.
Ingredients
175 gr skinless salmon fillet
½ ripe avocado, diced
2 scallions feathers, finely chopped
1 large orange
½ lemon
½ lime
2 tablespoons mayonnaise
1 teaspoon honey
¼ teaspoon salt
¼ teaspoon hot red pepper
Directions
Cut the salmon fillet into small cubes about 1 cm thick and place in a bowl. Salt the chopped salmon and cover with freshly squeezed lime, orange, and lemon juice, mix and marinate in the refrigerator for 45 minutes or an hour.
When the salmon is marinated, peel the remaining half of the orange from the skin and membranes. Cut the orange pulp into small slices and place in a bowl. Add diced avocado and finely chopped green onions.
Strain the salmon from the marinade, use the remaining marinade as a sauce, and place the salmon slices in a bowl with the sliced ​​orange and avocado. Stir gently and set aside.
Add mayonnaise, honey, and hot red pepper to the marinade and whisk the sauce thoroughly until frothy.
Using the salad dish, carefully place the salmon salad on a serving dish. Delete the form. Garnish the salad with a handful of greens and cover with two tablespoons of the sauce obtained from the marinade. Serve the prepared salad immediately.
Enjoy your meal!
Also Like
Comments for "Salmon Ceviche with Avocado"