Ceviche with Seabass and Salmon
by Editorial Staff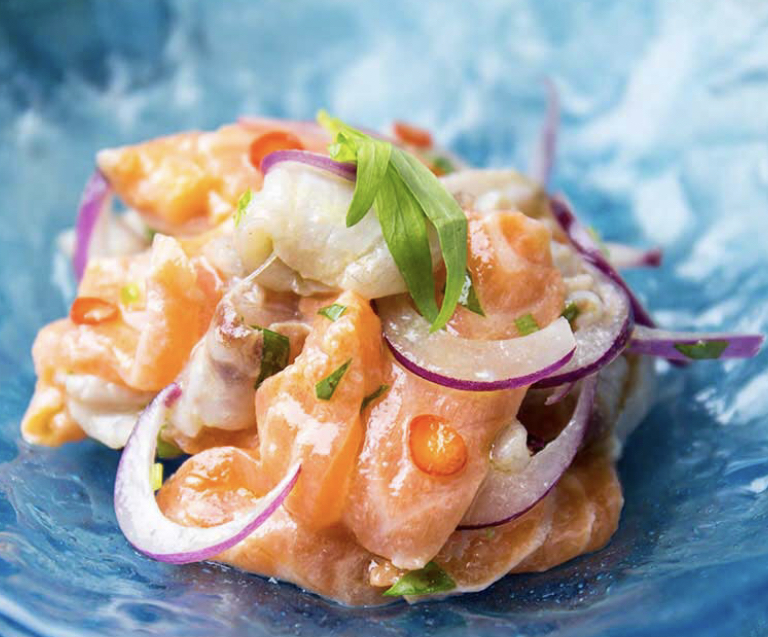 If you love sushi, then the recipe for ceviche with sea bass and salmon should not surprise you too much. Yes, today I propose to cook raw fish marinated in lime juice. By the way, this is a traditional Peruvian recipe that has taken root in many fish restaurants around the world. But preparing it at home will not be difficult. Believe that lime juice will give fish fillets a unique taste in 15 minutes.
Ingredients
1 PC. Seabass (chilled)
200 g Salmon (chilled fillet)
1 PC. Lime
1/2 pcs.
Crimean onion (small size)1/4 pcs. Chilli
2-3 sprigs of Tarragon (can be substituted with parsley)
1 tbsp Olive oil
to taste Salt
Directions
Gut the seabass and separate the fillets. For detailed instructions on how to separate fillets, see the link below.
Cut the sea bass fillet into small pieces. Finely chop the chili pepper, cut the onion into thin slices, finely chop the tarragon.
sea ​​bass fillet
Separate the salmon fillet from the skin, cut it into small pieces.

Put the salmon and sea bass fillets in a small bowl, add chili, onion, tarragon. Season with lime juice and olive oil, salt to taste (1-2 pinches are enough).
Refrigerate for 15 minutes, then serve.
Enjoy your meal!
Also Like
Comments for "Ceviche with Seabass and Salmon"